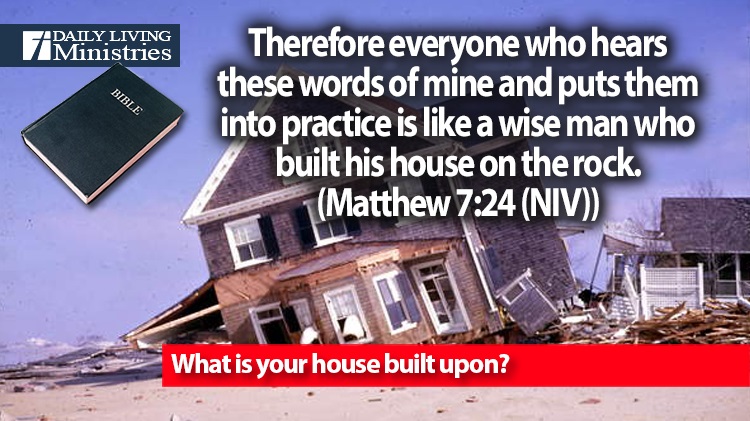 Be Still . . .
Devotionals for Daily Living ©
Therefore everyone who hears these words of mine and puts them into practice is like a wise man who built his house on the rock.
(Matthew 7:24 (NIV))
Is your house built upon the rock? Does your house have a firm foundation? Is there a solid cornerstone that ties the foundation together to give it strength?
Every single person who has ever lived has lived their life committed to something that they firmly believe in. Some believe in riches. Others believe in power. I could go on and on about the possible beliefs and goals that drive a persons life, but that is not the point. The point is that every single action that they take can be tied back to the foundation of their beliefs. If the foundations are selfish and sinful, then the life will be selfish and sinful. Jesus knew this all too well. He knew that it is what is in a man's heart that makes him unclean. Jesus taught that there is a better foundation to base your life upon. He taught that living by His words would give us that firm foundation. He came to this world so that we could have life to the fullest, still people rejected Him.
The stone the builders rejected
     has become the cornerstone;
(Psalm 118:22 (NIV))
Jesus is "'the stone you builders rejected, which has become the cornerstone.'
(Acts 4:11 (NIV))
Jesus is that cornerstone. He is that firm foundation. He is that solid rock upon which we all should build our lives.
Each of us have a choice to make. The religious leaders who lived when Jesus walked the earth chose to believe in a foundation that pointed to Jesus, yet they failed to make that connection. They built their house on tradition and legalism and not on the truth of God's Word when He was right in front of them.
In the beginning was the Word, and the Word was with God, and the Word was God.
(John 1:1 (NIV))
There is a time that is coming where we must be able to stand firm in our beliefs. We must be able to anchor ourselves to that firm foundation that is the rock of our salvation in order to withstand the coming storm.
What is your house built upon?
Copyright 1998 – 2021 Dennis J. Smock
Daily Living Ministries, Inc.
http://www.dailylivingministries.org
Support Daily Living Ministries
Subscribe to daily email delivery
Visit us on facebook