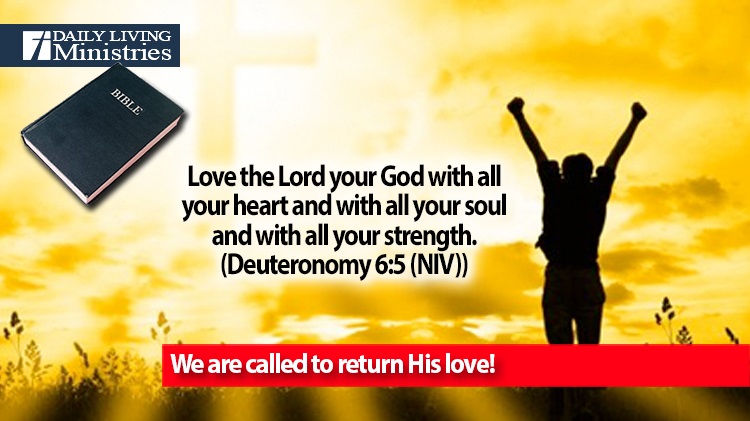 Be Still . . .
Devotionals for Daily Living ©
Love the Lord your God with all your heart and with all your soul and with all your strength.
(Deuteronomy 6:5 (NIV))
There are truly no better instructions on how we are to love the Lord, but have you ever stopped to truly think about how He loves us? I have often wondered if we are given this passage because that is how He loves us. In our limited understanding, are we being told to mirror the Lord's love for us back to Him?
For God so loved the world that he gave his one and only Son, that whoever believes in him shall not perish but have eternal life.
(John 3:16 (NIV))
How great is His love for us that He would give His one and only Son in order to save us? He did not hesitate to create a plan of redemption knowing what price had to be paid. He willingly paid the price. It sounds like the Lord loves us with all His heart!
The Lord is my shepherd; I shall not want.
     He makes me lie down in green pastures.
He leads me beside still waters.
     He restores my soul.
He leads me in paths of righteousness
     for his name's sake.
(Psalm 23:1-3 (ESV))
How great is His love for us that He desired to give us peace, that He desires to restore our souls?
So God created man in his own image,
      in the image of God he created him;
      male and female he created them.
(Genesis 1:27 (ESV))
If you think about that with an understanding of Genesis, we are created in His image. God loves us because we are His creation. We are His children. Each of us are unique and each of us are important in His eyes. It is not a difficult leap of faith to conclude that the Lord loves us with all His soul, or should I say with all His Holy Spirit?
Have you ever tried to truly comprehend the sacrifices, the torture and the pain of the crucifixion? The physical implications are staggering. The spiritual implications are not as visible to us, but they are overwhelming. Jesus took on the sin of all humanity. He paid the price for that sin. The Father had to turn His back on the Son so that this could transpire. God loves us so much that He bore the weight of all sin for all of humanity. I can't assume to know if this was all of the strength that He possessed. I just know that it was far greater than anything that had ever been seen before. To summarize this, I think that it is clearly obvious that the Lord loves us with all His strength, even to the point of death, descending into hell, and then arising again!
Do you think that this is how God loves us?
We are called to return His love!
Copyright 1998 – 2022 Dennis J. Smock
Daily Living Ministries, Inc.
http://www.dailylivingministries.org
Support Daily Living Ministries
Subscribe to daily email delivery
Visit us on facebook