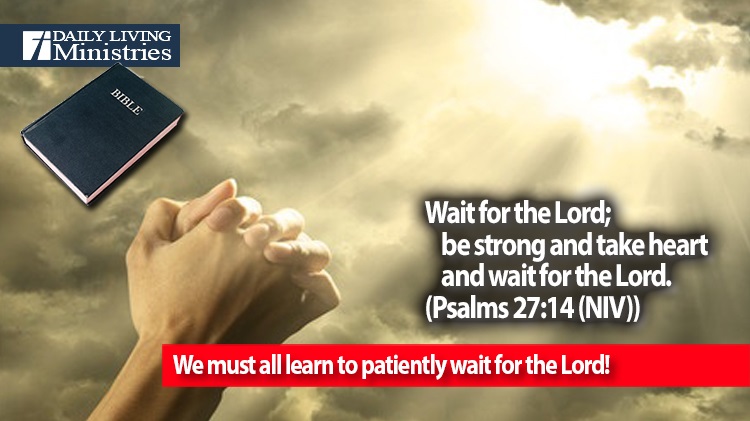 Be Still . . .
Devotionals for Daily Living ©
Wait for the Lord;
     be strong and take heart
     and wait for the Lord.
(Psalms 27:14 (NIV))
There is something about human nature that just does not like to wait. We are impatient and this is probably a direct result of the fall from grace. To take this one step further, not only are we to wait for the Lord, but we are to do it patiently. We are to wait for His timing and His purpose.
I waited patiently for the Lord;
     he turned to me and heard my cry.
(Psalm 40:1 (NIV))
I found myself today asking what am I to do, what am I to write about that people need to understand. I do not profess for this to be what you may take it to mean, but instantly I found myself thinking that I need to wait for the Lord.
How about you?
Do you need to patiently wait for the Lord?
With all that is going on in your life, are you able to wait?
With all that is going on in the world, are you able to wait?
Each of us have things in our lives that we want God to resolve for us instantly. We all want God to resolve the world issues instantly. We are seeking these resolutions, these fixes, these prayers to be met on our timeframe. Every single person who professes a faith in Jesus is asking for things done on their timeframe. Some things will happen sooner than later, but everything will happen according to God's timing. His ways are perfect. His timing is perfect. I am sure that you are familiar with the saying that God is never late and He is also never early. We want the early answer, but we must learn to be patient and wait for the never late timing that God is so good at doing.
When things seem like you can't wait another minute, remind yourself that He is not on our timeframe. We are on His!
We must all learn to patiently wait for the Lord!
Copyright 1998 – 2022 Dennis J. Smock
Daily Living Ministries, Inc.
http://www.dailylivingministries.org
Support Daily Living Ministries
Subscribe to daily email delivery
Visit us on facebook