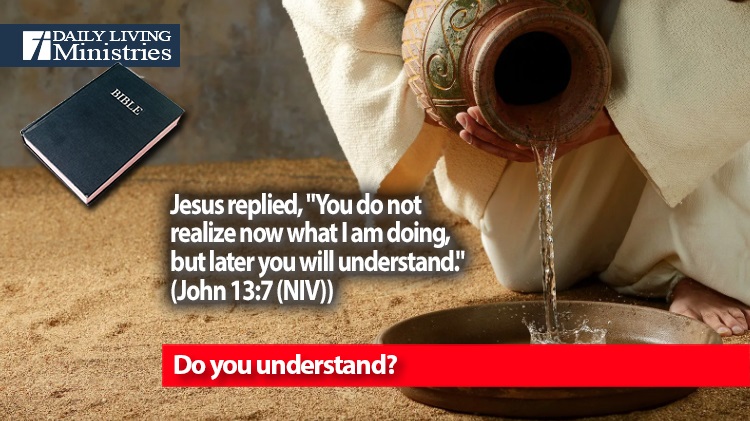 Be Still . . .
Devotionals for Daily Living ©
Jesus replied, "You do not realize now what I am doing, but later you will understand."
(John 13:7 (NIV))
You may not recognize this passage immediately, but think about Jesus and the disciples in the Upper Room. Peter was about to rebuke Jesus for washing his feet. It is true that Peter did not understand what Jesus was doing. In fact, most people don't fully grasp the symbolism of this action. It was a hint of a much bigger "washing" that Jesus was about to undertake.
"No," said Peter, "you shall never wash my feet."
Jesus answered, "Unless I wash you, you have no part with me."
"Then, Lord," Simon Peter replied, "not just my feet but my hands and my head as well!"
(John 13:8-9 (NIV))
Thankfully, Peter realized what was going on and fully embraced it. In fact, he wanted more!
Think about that for a moment.
Do you want more of what Jesus came to offer? Do you want to be washed white as snow? Do you want to stand before the Lord and hear Him say, Well done, good and faithful servant"? Do you want to know Jesus intimately?
It all starts with a simple act. It all starts with us allowing Jesus to wash us clean!
What Jesus did in the Upper Room symbolizes what He does for all of us if we will simply believe.
For God so loved the world that he gave his one and only Son, that whoever believes in him shall not perish but have eternal life. For God did not send his Son into the world to condemn the world, but to save the world through him. Whoever believes in him is not condemned, but whoever does not believe stands condemned already because they have not believed in the name of God's one and only Son.
(John 3:16-18 (NIV))
We, as sinful humanity, can be washed clean of our sins simply by believing in Jesus as our personal Lord and Savior. That is the most powerful cleansing that we will ever experience. This is the plan as spoken of in Isaiah. This is the plan that settles God's redemption of those who believe.
"Come now, let us settle the matter,"
     says the Lord.
"Though your sins are like scarlet,
     they shall be as white as snow;
though they are red as crimson,
     they shall be like wool.
(Isaiah 1:18 (NIV))
I believe that Peter understood this connection.
Do you understand?
Copyright 1998 – 2022 Dennis J. Smock
Daily Living Ministries, Inc.
https://www.dailylivingministries.org
Support Daily Living Ministries
Subscribe to daily email delivery
Visit us on facebook