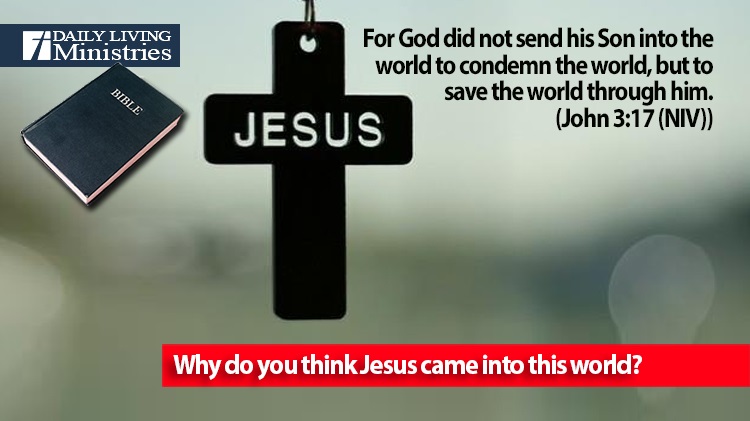 Be Still . . .
Devotionals for Daily Living ©
For God did not send his Son into the world to condemn the world, but to save the world through him.
(John 3:17 (NIV))
Everybody, even nonbelievers, focuses on the passage just before these words.
For God so loved the world that he gave his one and only Son, that whoever believes in him shall not perish but have eternal life.
(John 3:16 (NIV))
I honestly believe that this well-known verse is also one of the root verses that make people profess that God is love. Too many people who profess this have taken this to the extremes by claiming that since God loves us, why would He condemn us? They twist the truth and falsely believe that since God created us then He loves us unconditionally, even when we are still in our sin. They are correct that He loves us unconditionally, but they fail to realize that He hates sin, and that He cannot associate with sin. We are destined, because of our sin, to be eternally separated from the loving Father who created us. They falsely extend their belief that our sin is acceptable to the point that He would not hate us for the sin that they mistakenly believe that He created in us. They fail to recognize that it was Satan who deceived humanity and caused sin.
We were not created to be sinful beings!
We were created to be in relationship with God, the Father.
With that truth fully prominent, we can embrace the preeminent truth behind Jesus being sent to save the world through His atoning actions. The problem is that too many people do not believe that they need to be saved. They don't recognize the life saver that is being tossed to them as they descend further and further into sin. They are drowning in sin and don't even realize it.
For the wages of sin is death, but the gift of God is eternal life in Christ Jesus our Lord.
(Romans 6:23 (NIV))
I love the words in John 3:16, but we must not stop there. We must realize how much He loves us by realizing one important fact.
Therefore, there is now no condemnation for those who are in Christ Jesus,
(Romans 8:1 (NIV))
If you profess a faith in Jesus, then you are no longer condemned, You have been saved from the wages of sin. But you may ask, how does this save the world? That is an easy question to answer, for it is the same way that He has been saving the world since He went to the cross. He is saving the world one life at a time!
I hope that this clarifies some things in your mind, especially with the single biggest question that you need to be able to answer for yourself.
Why do you think Jesus came into this world?
Copyright 1998 – 2023 Dennis J. Smock
Daily Living Ministries, Inc.
https://www.dailylivingministries.org
Support Daily Living Ministries
Subscribe to daily email delivery
Visit us on facebook