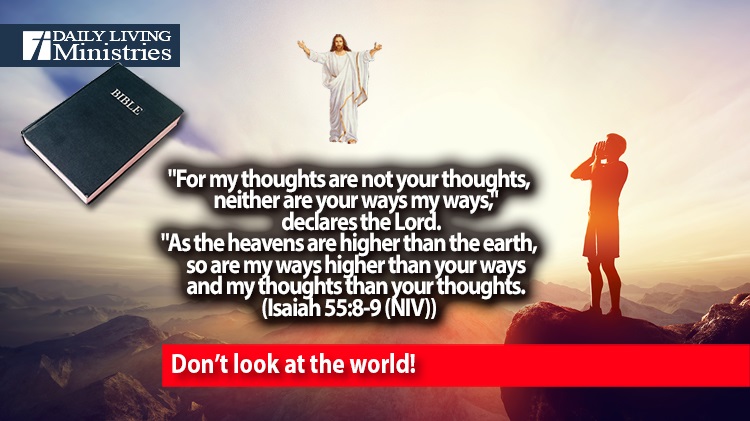 Be Still . . .
Devotionals for Daily Living ©
"For my thoughts are not your thoughts,
     neither are your ways my ways,"
         declares the Lord.
"As the heavens are higher than the earth,
     so are my ways higher than your ways
     and my thoughts than your thoughts.
(Isaiah 55:8-9 (NIV))
Do you truly trust in the Lord? Then why do we, as the Body of Christ, pay so much attention to the things of this world? How can we understand what God is doing when we are focusing on the world instead of focusing on Him. Instead of worrying about the current state of this nation and the world, we should be praising the Lord for the promises that He has given, for we know that the promises will be kept. We need to focus our eyes not on the things of this world, for they are fleeting. We should be focusing our eyes elsewhere.
So we fix our eyes not on what is seen, but on what is unseen, since what is seen is temporary, but what is unseen is eternal.
(‭‭2 Corinthians‬ ‭4:18 (NIV))
When we fix our eyes on something, it becomes clearly focused and everything else becomes unimportant. Everything else loses focus. Everything else becomes blurry. Everything else is not seen clearly. It is our human nature that makes it so difficult to focus on the unseen when what is seen is so distracting to our sinful, fallen natures. How can we even begin to know God's heart and His ways if we focus on the world? With everything that is going on in the world, we need to keep our eyes focused on the One who will give us peace in the midst of the troubles. We need to make the Lord our priority.
We are not capable of the thoughts that the Lord has. We are not capable of the ways of the Lord. We are too easily distracted. Only the Lord can keep everything in focus at all times. Only the Lord can manage an eternity and make it work as He desires. Only the Lord can make history unfold to achieve His purpose. When we see things unfolding in this world that we do not understand, we need to relinquish our thoughts and ways. We need to stop looking at the world and look to Him, for everything is working according to His plan.
We must learn to completely trust His thoughts and His ways, and no matter what we may see in this world, we must always look to Him.
Don't look at the world!
Copyright 1998 – 2021 Dennis J. Smock
Daily Living Ministries, Inc.
http://www.dailylivingministries.org
Support Daily Living Ministries
Subscribe to daily email delivery
Visit us on facebook