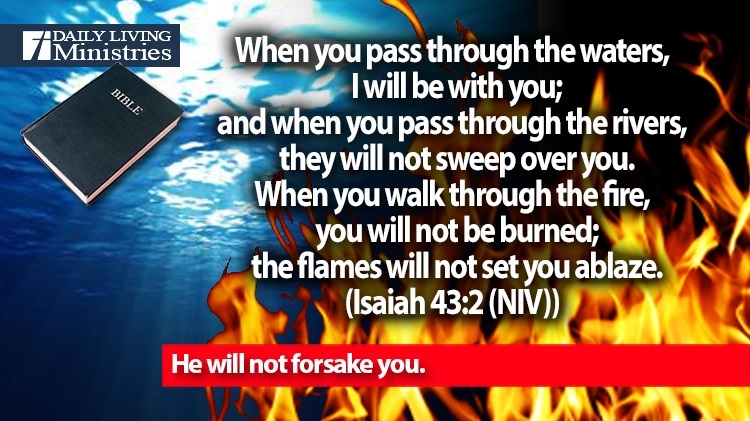 Be Still . . .
Devotionals for Daily Living ©
When you pass through the waters,
  I will be with you;
and when you pass through the rivers,
  they will not sweep over you.
When you walk through the fire,
  you will not be burned;
  the flames will not set you ablaze.
(Isaiah 43:2 (NIV))
All that I can say is thank you, Lord, for your great grace, mercy and love!
We may never actually pass through the waters or walk through the fire, but we can rest assured that no matter what we may face, the Lord is with us. If we do face the waters or the fire, we have the assurance that He is walking with us, guiding us and protecting us because we are His children!
For years I have had what Paul simply described as a thorn in his flesh. He never gave us more details, but we know that he suffered from some health problems that he prayed to be taken from him. We know how God answered that prayer.
But he said to me, "My grace is sufficient for you, for my power is made perfect in weakness." Therefore I will boast all the more gladly about my weaknesses, so that Christ's power may rest on me.
‭‭(2 Corinthians‬ ‭12:9‬ ‭(NIV‬‬))
Can we boldly proclaim that His grace is sufficient for us?
Can we allow the Lord's power to be made perfect in our weakness?
Can we boast about our weaknesses so that Christ's power may rest on us?
As I sit here at 3 AM on a Sunday morning because of the fact that the thorn in my flesh has raised its ugly head, I rejoice in the quiet. I rejoice that it has allowed me to be still in His presence. I rejoice because it has allowed me another uninterrupted time to know Him.
Be still and know that I am God,
(Psalms 46:10a (NIV))
I rejoice because once again His grace is sufficient!
Each of us face trials in our lives that potentially have the ability to do us harm. Don't lose hope! Don't lose faith! He is still with you. He will not forsake you.
Good night!
Copyright 1998 – 2021 Dennis J. Smock
Daily Living Ministries, Inc.
http://www.dailylivingministries.org
Support Daily Living Ministries
Subscribe to daily email delivery
Visit us on facebook