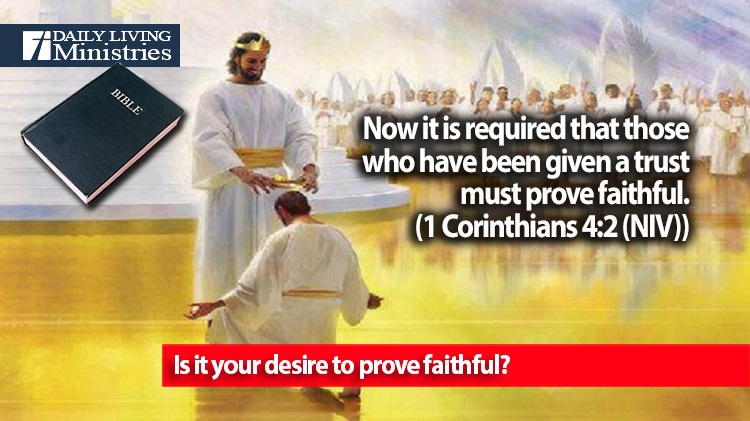 Be Still . . .
Devotionals for Daily Living ©
Now it is required that those who have been given a trust must prove faithful.
(1 Corinthians 4:2 (NIV))
Have you been given a trust?
Paul wrote these words to the church in Corinth. He was explaining to them that he had a responsibility to share the Gospel, to share the mysteries that God had revealed. He let it be known that since he knew of these mysteries, he was required to share with others. His choice of words also indicated that once he had shared those mysteries, the ones who had received such knowledge were also required to share with others.
I hope that this concept sounds very familiar to you!
Then Jesus came to them and said, "All authority in heaven and on earth has been given to me. Therefore go and make disciples of all nations, baptizing them in the name of the Father and of the Son and of the Holy Spirit, and teaching them to obey everything I have commanded you. And surely I am with you always, to the very end of the age."
(Matthew 28:18-20 (NIV))
If we know the truth and the power of the Gospel, then we are to share it!
If we, as believers, had a job description, then sharing the Gospel is our only duty. It goes hand in hand with how Jesus answered when He was asked what is the greatest commandment.
Jesus replied: "'Love the Lord your God with all your heart and with all your soul and with all your mind.' This is the first and greatest commandment. And the second is like it: 'Love your neighbor as yourself.' All the Law and the Prophets hang on these two commandments."
(Matthew 22:37-40 (NIV))
Loving the Lord in this manner requires surrendering your will to His. It means that you cherish Him above all others. It means that you trust and believe. It means that you have faith! If you understand just who the Lord is, then you desire to share this understanding with others. To put it clearly, you love others enough to share with them the love that the Lord shared with you through the cross.
You have been given a Great Commission. You have been given an explanation of how God loves and how we are to love others.
In other words, you have been given a trust!
We who have accepted Jesus as our personal Lord and Savior are called to prove faithful in sharing what we have been given.
Is it your desire to prove faithful?
Copyright 1998 – 2023 Dennis J. Smock
Daily Living Ministries, Inc.
https://www.dailylivingministries.org
Support Daily Living Ministries
Subscribe to daily email delivery
Visit us on facebook