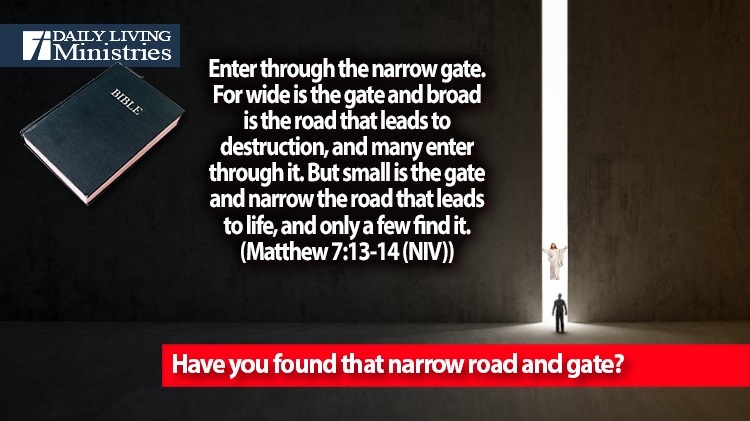 Be Still . . .
Devotionals for Daily Living ©
Enter through the narrow gate. For wide is the gate and broad is the road that leads to destruction, and many enter through it. But small is the gate and narrow the road that leads to life, and only a few find it.
(Matthew 7:13-14 (NIV))
Are you able to stay focused on your goals?
Based on your answer, how has your life lived up to what you have just professed about yourself?
We all like to think that we can focus on our goals and, as Paul wrote, keep our eyes on the prize, but how often do we truly achieve our goals? Are you doing what you intended to be doing when you graduated from school? Are you living where you thought you would be living? And here comes the ultimate question. Do you weigh what you want to weigh?
Ouch!
Don't feel bad, because I don't either on any of these questions, especially the last one. I do believe that my current state of life is a direct result of God's plan and my running from His plan. There is God's perfect will and then, thankfully, there is His prevenient will. He takes all of our mistakes, our sins, and directs us down a better path than the path that we were on. He directs us back to that narrow gate. He leads us according to His will so that our final destination is an eternity with Him. In order to arrive at the destination that He has planned for us, we must keep our eyes on Jesus.
Think about that for a moment.
What happens when you are driving and you find yourself looking at something that is not directly in front of you? Chances are extremely good that you will swerve, that you will stray into the direction that you look. If you look too long, you will find yourself in serious trouble. In order to guarantee that you will stay on the road and arrive at you destination, you must keep your eyes on the road before you. Jesus is that road. He is our destination. He is our goal! He is that narrow gate.
It is important that we must keep our eyes on Jesus. Jesus will guide you on a road that leads to life.
Have you found that narrow road and gate?
Copyright 1998 – 2021 Dennis J. Smock
Daily Living Ministries, Inc.
http://www.dailylivingministries.org
Support Daily Living Ministries
Subscribe to daily email delivery
Visit us on facebook