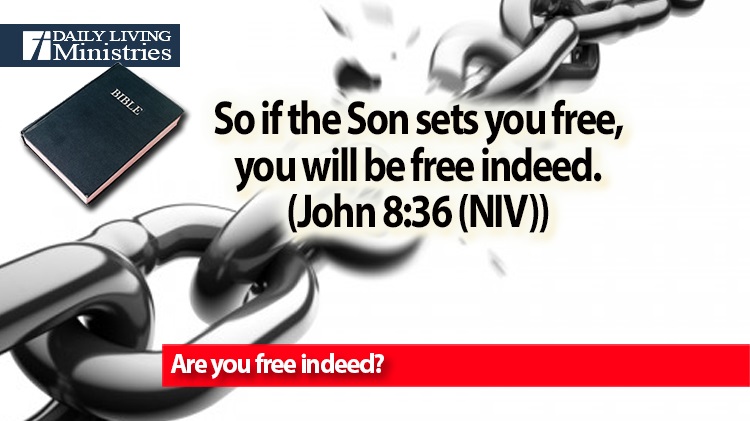 Be Still . . .
Devotionals for Daily Living ©
So if the Son sets you free, you will be free indeed.
(John 8:36 (NIV))
This passage came to mind while I was having a conversation with a friend. The subject came up about people questioning their salvation because of their past being too much for God to forgive. Sadly, there are always people who believe that they have done so much wrong that God can't forgive them. They feel that they are above God's thresh hold of forgiveness.
Surely the arm of the Lord is not too short to save,
     nor his ear too dull to hear.
(Isaiah 59:1 (NIV))
In essence, they can't forgive themselves even when God freely gives grace and mercy to all who will simply accept.
For God so loved the world that he gave his one and only Son, that whoever believes in him shall not perish but have eternal life. For God did not send his Son into the world to condemn the world, but to save the world through him. Whoever believes in him is not condemned, but whoever does not believe stands condemned already because they have not believed in the name of God's one and only Son. This is the verdict: Light has come into the world, but people loved darkness instead of light because their deeds were evil. Everyone who does evil hates the light, and will not come into the light for fear that their deeds will be exposed. But whoever lives by the truth comes into the light, so that it may be seen plainly that what they have done has been done in the sight of God.
(John 3:16-21 (NIV))
Do you know someone who needs to come into the light? Are they afraid to come into the light for fear of what will be exposed? It seems that even Paul wrote about such people when he wrote to the church at Corinth.
Or do you not know that wrongdoers will not inherit the kingdom of God? Do not be deceived: Neither the sexually immoral nor idolaters nor adulterers nor men who have sex with men nor thieves nor the greedy nor drunkards nor slanderers nor swindlers will inherit the kingdom of God.
(1 Corinthians 6:9-10 (NIV))
He went into detail about the sinful past of the members of the church at Corinth, but he didn't stop there. He went on to remind them that that is what they were and not what they are due to the saving grace freely given through the blood of Jesus.
And that is what some of you were. But you were washed, you were sanctified, you were justified in the name of the Lord Jesus Christ and by the Spirit of our God.
(1 Corinthians 6:9-11 (NIV))
If you think, or someone you know thinks that they are too far gone for grace, remind them that we are all sinners in need of a savior, and His name is Jesus. I don't often start and end with the same scripture passage, but in this case, I feel that it is merited.
So if the Son sets you free, you will be free indeed.
(John 8:36 (NIV))
Are you free indeed?
Copyright 1998 – 2022 Dennis J. Smock
Daily Living Ministries, Inc.
http://www.dailylivingministries.org
Support Daily Living Ministries
Subscribe to daily email delivery
Visit us on facebook