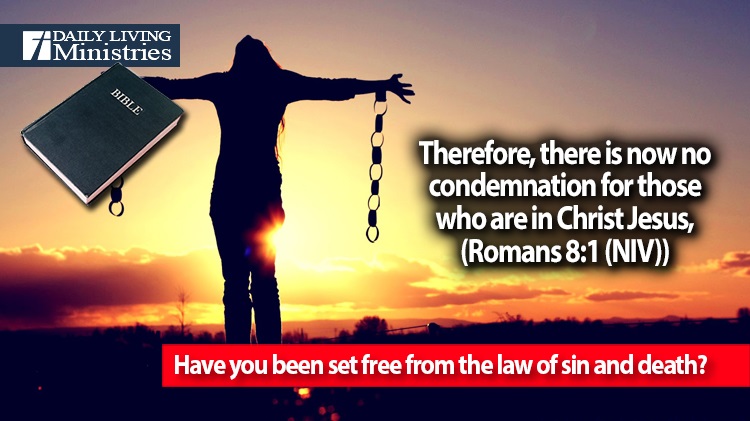 Be Still . . .
Devotionals for Daily Living ©
Therefore, there is now no condemnation for those who are in Christ Jesus,
(Romans 8:1 (NIV))
Have you ever truly given thought to the meaning of condemnation?
It means blame!
To put it simply, we are not blamed for our sin if we are in Christ Jesus! We are not found at fault. We are not held responsible. We are not found guilty.
I realize that this sounds like we can get away with anything, but it actually means that we are forgiven for what we have done. It does not mean that we can continue to willfully sin. The sacrifice that Jesus made on the cross was not a free pass to continue sinning. It was and still is an offer of a way to escape the life of sin and the consequences of sin.
For God so loved the world that he gave his one and only Son, that whoever believes in him shall not perish but have eternal life. For God did not send his Son into the world to condemn the world, but to save the world through him. Whoever believes in him is not condemned, but whoever does not believe stands condemned already because they have not believed in the name of God's one and only Son.
(John 3:16-18 (NIV))
Do you like the idea of no condemnation?
Do you like the idea of a fresh start in the eyes of God? With everything that is going on in the world, time to accept this fresh start may be running out. Don't wait!
It is as easy as ABC.
A is for admit that you are a sinner in need of a savior.
B is for believe in your heart that Jesus Christ died for your sins, was buried, and that God raised Him from the dead.
C is for call upon the name of the Lord Jesus.
Therefore, there is now no condemnation for those who are in Christ Jesus, because through Christ Jesus the law of the Spirit who gives life has set you free from the law of sin and death.
(Romans 8:1-2 (NIV))
Have you been set free from the law of sin and death?
Copyright 1998 – 2022 Dennis J. Smock
Daily Living Ministries, Inc.
http://www.dailylivingministries.org
Support Daily Living Ministries
Subscribe to daily email delivery
Visit us on facebook