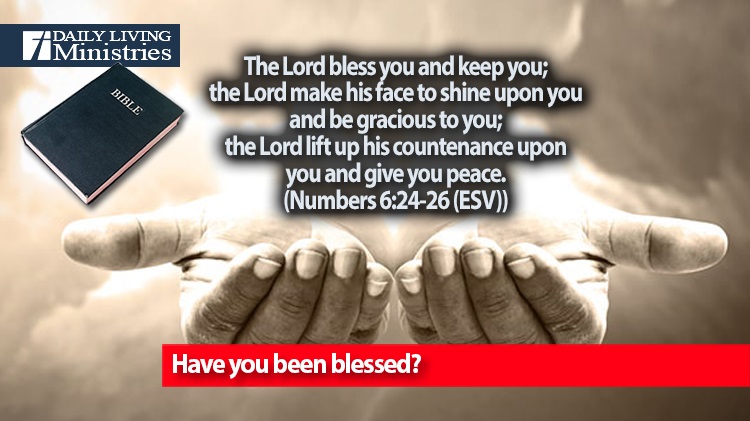 Be Still . . .
Devotionals for Daily Living ©
The Lord bless you and keep you;
the Lord make his face to shine upon you and be gracious to you;
the Lord lift up his countenance upon you and give you peace.
(Numbers 6:24-26 (ESV))
Do you feel blessed?
I realize that this is a loaded question, and if you are like all of the rest of humanity, there are definitely times when you just don't feel that you are blessed. Think about that for a moment in relation to the ultimate gift, to the ultimate blessing that you have been freely given through the atoning blood of Jesus, and then think about just how truly you have been blessed by the Lord. If you profess a faith in Jesus as your personal Lord and Savior, you have already been blessed with salvation. You have been blessed with grace and mercy. You have been blessed with the redeeming love of God.
This blessing keeps you from the consequences of your sins and keeps you in the protective arms of the Lord.
This blessing allows you to enter into the throne of God and seek His grace and mercy.
This blessing allows you to approach the throne without fear of retribution.
This blessing gives you a peace because you know that you are a beloved child of God.
This was such an unusual concept. A king had complete authority. If you were in the presence of the king, it meant bad things would result. He was the ultimate authority and controlled life and death. If he didn't like you, the results were not good. If he liked you and lifted his face to you, it meant life. These words from these passages were used to describe the best possible encounter with the one who was in ultimate authority. Not only did this type of encounter make your day, it possibly even saved you from a harsh punishment.
Does that sound familiar?
As believers, as members of the Body of Christ, we can rest assured of our Lord's blessing because of all of the things that He has done for us. He has kept us from eternal separation from the Father. He has looked upon us with grace and mercy. He looks upon us with love, and He has given us a peace that passes all understanding!
Have you been blessed?
Copyright 1998 – 2021 Dennis J. Smock
Daily Living Ministries, Inc.
http://www.dailylivingministries.org
Support Daily Living Ministries
Subscribe to daily email delivery
Visit us on facebook