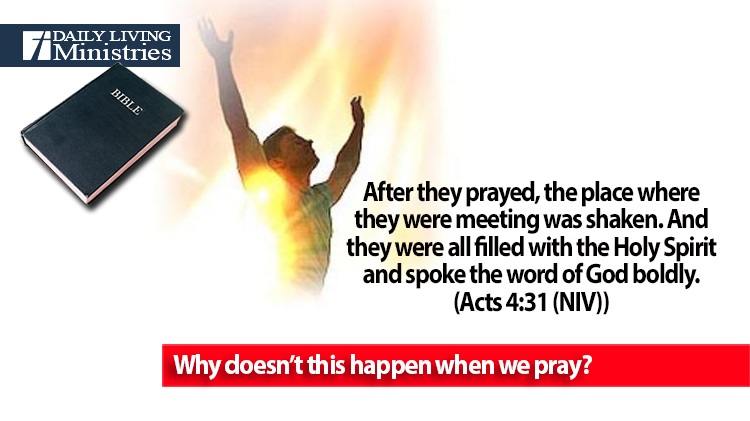 Be Still . . .
Devotionals for Daily Living ©
After they prayed, the place where they were meeting was shaken. And they were all filled with the Holy Spirit and spoke the word of God boldly.
(Acts 4:31 (NIV))
What an amazing manifestation of His power and His glory!
I don't know about you, but I long for His power and His glory to be released like this in our churches today!
Can you imagine the outpouring of bold preaching that would come about as a result of this happening? Sadly, I believe that we are missing something that the early church had. I honestly believe that we don't have the commitment, the desire, and the understanding of exactly what we have been given through the life, death, burial, resurrection and ascension of Jesus. The early church knew what had happened, for they either had experienced it first hand, they had seen it and were drawn to Jesus, or they knew someone who had. The amazing events were still fresh in their minds. They were still fresh in their hearts. All of their lives they had been educated in His Word and they were earnestly seeking what His Word promised. They were filled with the Holy Spirit because they had the faith to know and to trust what they had been taught and what they had seen.
They weren't caught up in programs, an order of worship, or man made routines that didn't bring them to the foot of the cross. When they prayed, they prayed. I think that it is safe to say that their prayers were not a five minute or less event. Their prayers were probably prayers of repentance. Their prayers were probably confessions. Their prayers were probably an emptying of themselves where they laid everything at the foot of the cross, and they expected things to happen. Based on this passage from Acts, things did happen. It would not surprise me in the least if what was recorded by James is a result of how they prayed.
Therefore confess your sins to each other and pray for each other so that you may be healed. The prayer of a righteous person is powerful and effective.
(James 5:16 (NIV))
Do we want these types of outpourings to happen in our churches? Do we earnestly desire His power and His glory to be made manifest in this world? We need to return to the basics of our faith. We need to recognize His power and His glory when we gather and not simply follow man made rituals. We need to confess, repent and surrender it all at the foot of the cross.
AND, . . .
We don't need to leave until we are broken and ready to be made anew through His saving grace.
If you desire for the events that happened when the early church prayed, we must ask ourselves this one question, and we must not be afraid of the answer.
Why doesn't this happen when we pray?
Copyright 1998 – 2023 Dennis J. Smock
Daily Living Ministries, Inc.
https://www.dailylivingministries.org
Support Daily Living Ministries
Subscribe to daily email delivery
Visit us on facebook