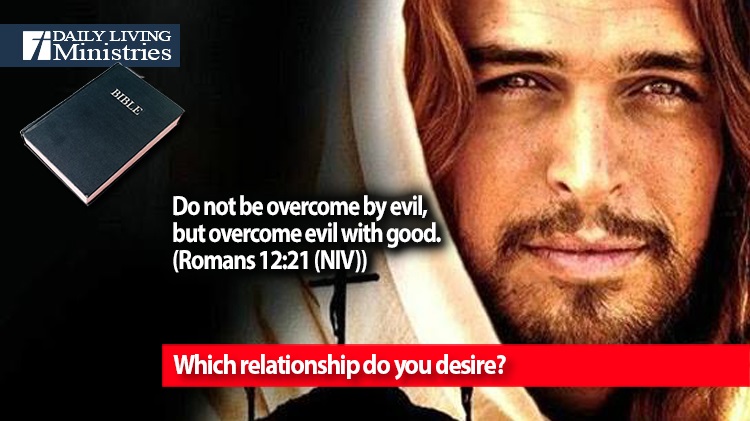 Be Still . . .
Devotionals for Daily Living ©
Do not be overcome by evil, but overcome evil with good.
(Romans 12:21 (NIV))
Each of us has things in our life that seem to take priority no matter what the circumstances we may find ourselves in.
For the most part, no one who professes a faith in Jesus intends to do evil, but Satan is deceitful. He gets us to fall for a little lie and then when we get comfortable with that small departure from the truth, he sends another lie! The key to standing firm in your faith is to know the truth so well that you instantly recognize the lies that the enemy uses to try and trip us up. If we fall for the lies of the enemy, we have missed the mark that God has established for His creation.
In essence, we have sinned!
We have been overcome by evil!
Thankfully, we have been given a way to overcome evil with good. It is not of our own doing, for we we are as filthy rags. All of us are unclean. All of us are sinners in need of a Savior, and that is the key to how we who are sinful can overcome evil with good. We can place our faith in the one whom God has sent to redeem us from our sins.
For God so loved the world that he gave his one and only Son, that whoever believes in him shall not perish but have eternal life. For God did not send his Son into the world to condemn the world, but to save the world through him. Whoever believes in him is not condemned, but whoever does not believe stands condemned already because they have not believed in the name of God's one and only Son.
(John 3:16-18 (NIV))
That is how you overcome evil with God's goodness. Believe in the name of Jesus!
Salvation is found in no one else, for there is no other name under heaven given to mankind by which we must be saved."
(Acts 4:12 (NIV))
Currently, I am seeing many things going on in the world that are evil and seem to be pointing to God's plans unfolding right before our eyes. I am also seeing a huge increase in things that point to the Lord, and they are having massive impacts on the lives of those who are involved in or are witnessing these events. I will probably have some people claim that we have to wait and see what the long term outcome of these events will be, but college campuses all across the nation are seeing revival. Many nations are seeing large numbers of people professing a faith in Jesus. We have movies out about the life of Jesus, and we have movies out about previous revivals that are changing the lives of the actors involved as well as the lives of those who see the movies.
We have a choice to make even after we profess a faith in Jesus. Each day we either choose to follow Jesus and draw closer to Him or we choose to follow this sinful, fallen world. We must choose which commitment, which relationship that we desire to base our life upon. We can walk in relationship with the Lord or we can walk in sin.
Which relationship do you desire?
Copyright 1998 – 2023 Dennis J. Smock
Daily Living Ministries, Inc.
https://www.dailylivingministries.org
Support Daily Living Ministries
Subscribe to daily email delivery
Visit us on facebook