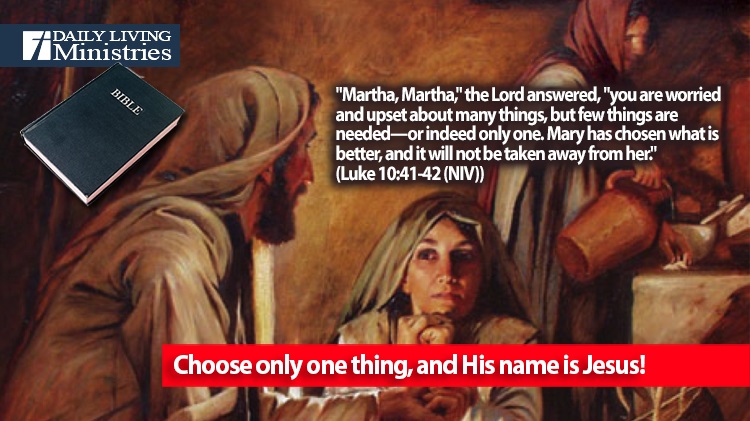 Be Still . . .
Devotionals for Daily Living ©
"Martha, Martha," the Lord answered, "you are worried and upset about many things, but few things are needed—or indeed only one. Mary has chosen what is better, and it will not be taken away from her."
(Luke 10:41-42 (NIV))
With all that is going on in the world, have you chosen what is better?
It is human nature to worry. Each of us does it whether we like to admit it, and each of us has a nervous habit that we do when we worry. It appears that Martha was worried about what people, about what Jesus, would think of her if she didn't fulfill her role as host. She was worried about how society would perceive her. It appears that her nervous habit was an extension of what she worried about. It was a frantically paced attempt to make sure that everything was in order. I honestly believe that she possessed the personality trait where she would be the one to clean the house before the maid arrived. I am sure that you know someone like that. They worry about the least little detail because they think that others will pay attention to these little details. They are afraid of being judged, and as a result, they place anything and everything as a priority and completely ignore what is really important.
They simply cannot let go!
Are you able to let go?
Is there anything in your life that you worry about? Is there anything in your life that you need to let go of? Are you worried about the state of the world? Is that what you need to let go of?
As believers in Jesus as your personal Lord and Savior, there is one thing that we must remember. There is one thing that we need to cling to instead of worrying about the things that we cannot do anything about. We need to remember that Jesus has overcome the world!
"I have told you these things, so that in me you may have peace. In this world you will have trouble. But take heart! I have overcome the world."
(John 16:33 (NIV))
If we have placed our faith in Jesus, and we have learned to fully rely on the fact that Jesus has overcome the world, why would we worry about anything? Why do we allow the things of this world to upset us if we know that we are being held in the loving arms of the Lord? Why do we attempt to clean up before the proverbial maid arrives?
We have made a choice when we choose to follow Jesus. We also have a choice just like Martha and Mary each day of our lives after we choose to follow Jesus. We know that both women loved Jesus, but Martha still chose to worry. She chose the busyness of the world when the giver of ultimate peace was right in front of her. We must choose to not be like Martha! We must choose wisely.
Choose only one thing, and His name is Jesus!
Copyright 1998 – 2023 Dennis J. Smock
Daily Living Ministries, Inc.
https://www.dailylivingministries.org
Support Daily Living Ministries
Subscribe to daily email delivery
Visit us on facebook