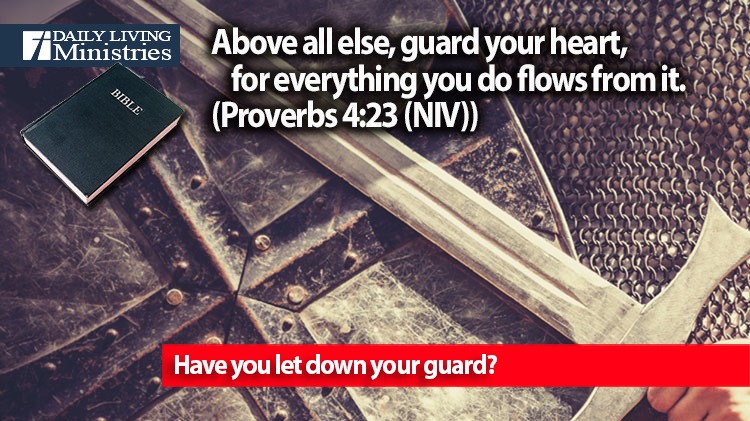 Be Still . . .
Devotionals for Daily Living ©
Above all else, guard your heart,
for everything you do flows from it.
(Proverbs 4:23 (NIV))
God has called people to stand guard, to be watchmen against the attacks of the enemy. Anyone who professes a faith in Jesus as their personal Lord and Savior is called to be ever vigilant and warn others of the lies and deceitful tactics of the enemy. We are to be the proverbial watchmen on the walls for our families, our churches, our communities, and our world. We are called to share the Gospel, but we are also called to stand guard for the sake of the Gospel in much the same manner as the watchmen posted on the walls of the old city of Jerusalem.
We are to be a warning of impending danger!
I have posted watchmen on your walls, Jerusalem;
they will never be silent day or night.
You who call on the Lord,
give yourselves no rest,
(Isaiah 62:6 (NIV))
We have a responsibility, but we must also stand guard over our own hearts. We do not want to see any lies of the enemy change what we treasure as the truth. We must stand guard against the thief that comes to steal, kill and destroy our love for the Lord which is our greatest treasure.
For where your treasure is, there your heart will be also.
(Matthew 6:21 (NIV))
What is the current state of your heart?
Is the Lord still your greatest treasure?
We must be diligent. We must be able to protect our own hearts from the attacks of the enemy.
Put on the full armor of God, so that you can take your stand against the devil's schemes.
(Ephesians 6:11 (NIV))
We must make sure that we are fully girded and ever vigilant. We don't want to ever have to answer this following question.
Have you let down your guard?
Copyright 1998 – 2023 Dennis J. Smock
Daily Living Ministries, Inc.
https://www.dailylivingministries.org
Support Daily Living Ministries
Subscribe to daily email delivery
Visit us on facebook