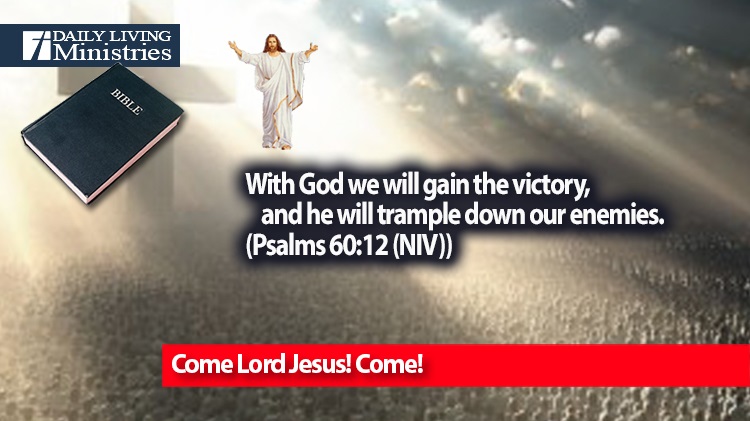 Be Still . . .
Devotionals for Daily Living ©
With God we will gain the victory,
     and he will trample down our enemies.
(Psalms 60:12 (NIV))
Do you believe this?
I know that with all that is going on in the world, sometimes it may be difficult to believe this. What is fundamentally wrong with this thought process is the simple fact that we don't rely on what is going on in the world. We, as the Body of Christ, should only rely on God's promises and not on the fallen nature of the world around us.
I know that this is a hard thing to do especially since humanity has fallen and is sinful by nature. In our sinful nature we rely on what we can see instead of relying on the promises that God has given to us.
Lord, I pray that You will open our spiritual eyes so that we can see Your grace, Your mercy and Your power as it readies to defeat the enemy once and for all. Jesus came to conquer sin and death. When He returns, He will come as a mighty warrior who will defeat the enemy and his followers.
Come Lord Jesus!
Come!
Your bride is growing tired of the conditions that have been unleashed in Your world. We long for Your return and the righteousness that You will bring!
The victory is Yours!
Come Lord Jesus! Come!
Copyright 1998 – 2021 Dennis J. Smock
Daily Living Ministries, Inc.
http://www.dailylivingministries.org
Support Daily Living Ministries
Subscribe to daily email delivery
Visit us on facebook