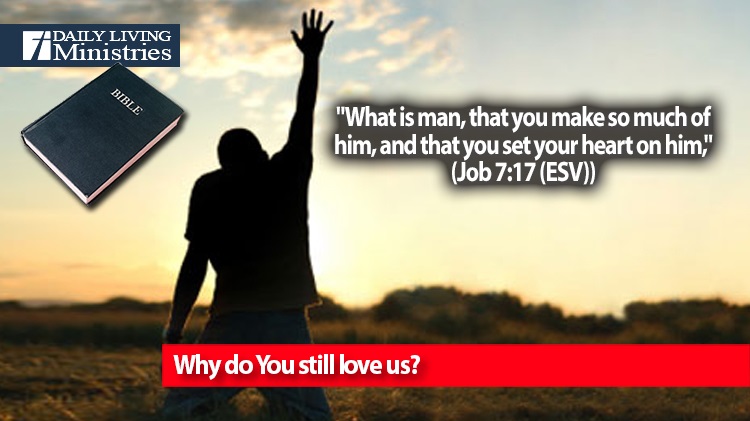 Be Still . . .
Devotionals for Daily Living ©
"What is man, that you make so much of him, and that you set your heart on him,"
(Job 7:17 (ESV))
It is often said that the Bible is actually God's love letter to His creation.
Is that how you see it?
It sounds like Job saw it this way. He knew that the Lord loves those who love Him. He knew that God wants people to come to Him of their own free will. He knew that God desires nothing more than a personal relationship with each and every person who has ever or will ever walk this earth. From this passage, it is clear that Job was amazed that God cared so much for His creation. To be honest with you, God created everything from the planets and the stars to the microscopic single cell animals and plants. In all of this vast creation, man is the greatest love of God's. Everything that He has done or ever will do is for His creation.
I have often stated that I love to read and compare various translations, for the subtleties truly bring things to life. The Complete Jewish Bible translates this passage in this manner.
"What are mere mortals, that you make so much of them? Why do you keep them on your mind?"
(Job 7:17 (CJB))
We are told that where our treasure is there our heart will be also. We are also told that what we think about is what we treasure. In reading these two translations, we are clearly told that we are in God's heart and on His mind. We are His treasure!
With all that humanity has done, God still loves us.
With all the rebellion that is in our hearts, God still loves us.
In fact, He loves us so much that He devised a plan to bring us to redemption.
For God so loved the world that he gave his one and only Son, that whoever believes in him shall not perish but have eternal life. For God did not send his Son into the world to condemn the world, but to save the world through him. Whoever believes in him is not condemned, but whoever does not believe stands condemned already because they have not believed in the name of God's one and only Son.
(John 3:16-18 (NIV))
All that we have to do is accept this amazing grace for ourselves!
We know that God's ways are far above our ways, yet, I often wonder what motivates God to do such an amazing thing for us even when we don't deserve it.
Why do You still love us?
Copyright 1998 – 2022 Dennis J. Smock
Daily Living Ministries, Inc.
https://www.dailylivingministries.org
Support Daily Living Ministries
Subscribe to daily email delivery
Visit us on facebook