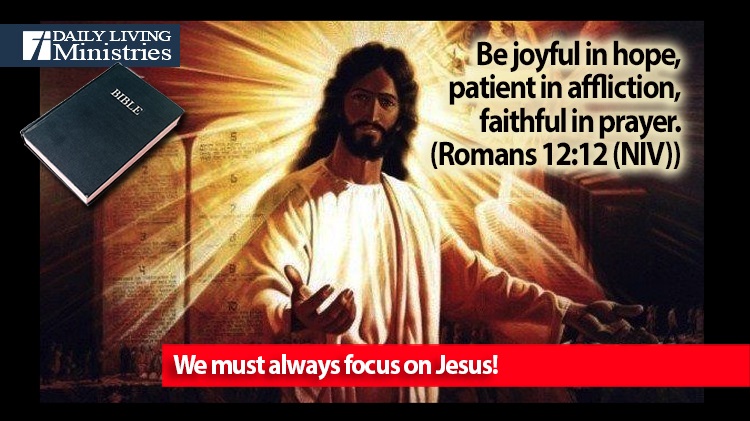 Be Still . . .
Devotionals for Daily Living ©
Be joyful in hope, patient in affliction, faithful in prayer.
(Romans 12:12 (NIV))
This would be so much easier to accept if it had a few less words.
Be joyful, patient and faithful!
Be honest with yourself. Doesn't this sound so much better and easier, especially when you consider that it is human nature to take the easy way in all things?
But, we are told that following Jesus will not be easy. If you have made that profession of faith, you have accepted the fact that we will face persecution.
"If the world hates you, keep in mind that it hated me first. If you belonged to the world, it would love you as its own. As it is, you do not belong to the world, but I have chosen you out of the world. That is why the world hates you. Remember what I told you: 'A servant is not greater than his master.' If they persecuted me, they will persecute you also. If they obeyed my teaching, they will obey yours also.
(John 15:18-20 (NIV))
We are to be joyful in hope, for our hope is in Jesus!
We are to be patient in affliction, for the affliction comes from the sinful, fallen world that hates Him and our faith in Him.
We are to be faithful in prayer, for our prayers keep us focused on Jesus and what He desires in our lives and in this world.
The prayer of a righteous person is powerful and effective.
(James 5:16b (NIV))
Following Jesus is not an easy thing to do. The modern church espouses a faith that has lost its power. It espouses a faith that has been changed by the world instead of changing the world. We are called to change the world by sharing the Gospel with all whom we encounter. Are you afraid of what the world will send back your way? What if Paul ran from affliction? What if he had lost hope in Jesus? What if he never prayed?
Think about that!
What if the man whom the Lord sent to share the Gospel with the Gentiles cowered in fear? Where would your faith be today? We must remind ourselves of what the Disciples knew.
You, dear children, are from God and have overcome them, because the one who is in you is greater than the one who is in the world.
(1 John 4:4 (NIV))
We must always focus on Jesus!
Copyright 1998 – 2023 Dennis J. Smock
Daily Living Ministries, Inc.
https://www.dailylivingministries.org
Support Daily Living Ministries
Subscribe to daily email delivery
Visit us on facebook