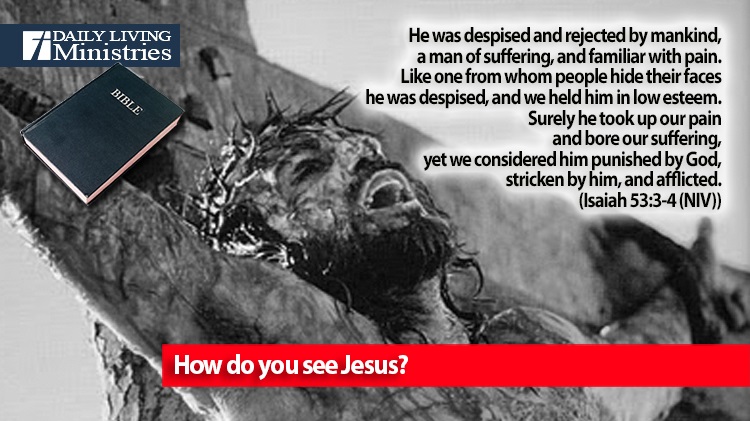 Be Still . . .
Devotionals for Daily Living ©
He was despised and rejected by mankind,
     a man of suffering, and familiar with pain.
Like one from whom people hide their faces
     he was despised, and we held him in low esteem.
Surely he took up our pain
     and bore our suffering,
yet we considered him punished by God,
     stricken by him, and afflicted.
(Isaiah 53:3-4 (NIV))
We are rapidly coming up on the anniversary of the events that these words refer to, but, all too often we don't truly think of what Jesus suffered in order to offer us grace and mercy.
We gloss over everything to the point where the words recorded in Isaiah make us very uncomfortable to even think about. To prove my point, how many people have seen Mel Gibson's "The Passion of the Christ"? Did you turn your eyes away during the scourging scenes and the crucifixion scenes? Were they difficult, even unbearable, to watch? I want you to consider some summary information that I have gleaned from experts who have studied scourging and the Roman practice of crucifixion. These experts, most of whom are all believers, have indicated that what actually happened is far worse than the scenes that we turned our eyes away from.
I am not going to go into details, but what Jesus suffered is far worse than most of us can even imagine, yet, He did it willingly!
I know that sounds way beyond our human capability of comprehension, but the pain and suffering were very real. The love that He felt, and still feels for us, is very real. The offer of grace and mercy that is freely given because of the Lord's great love is very real.
I truly believe that we do a great disservice to what Jesus went through when we don't portray the events as they really were. Don't get me wrong, for I love the old movies about the life of Jesus, but they often make it look like the punishment was not as great as it truly was. They make it look like the resurrection was not a total physical body repair job, but simply an event similar to when Jesus said that the girl was only sleeping. It even goes further than raising Lazarus from the dead. If you remember, he had been dead several days and everyone told Jesus that he would smell. From what I have been able to study about scourging, the very skin was ripped from the body. From what I have read about crucifixion, the vital organs shut down.
This was suffering. This was pain. People turned their faces away from this site in much the same way that we turned our faces away from the scenes in the movie.
Do you want to know how much Jesus loves you? Simply look at a true account of what He went through. Then, take a serious look at what God had to do to resurrect His battered, bleeding, and broken body. That miraculous event should make any skeptic fall to their knees and boldly profess, "My Lord, my God, and My Savior!"
How do you see the one who was despised and rejected?
How do you see Jesus?
Copyright 1998 – 2023 Dennis J. Smock
Daily Living Ministries, Inc.
https://www.dailylivingministries.org
Support Daily Living Ministries
Subscribe to daily email delivery
Visit us on facebook