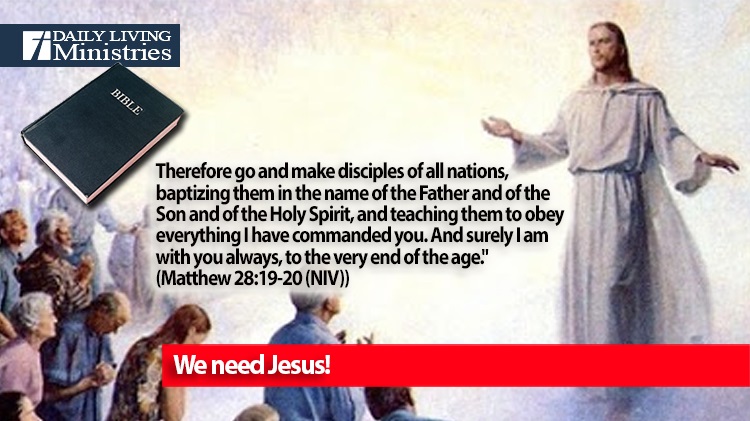 Be Still . . .
Devotionals for Daily Living ©
Therefore go and make disciples of all nations, baptizing them in the name of the Father and of the Son and of the Holy Spirit, and teaching them to obey everything I have commanded you. And surely I am with you always, to the very end of the age."
(Matthew 28:19-20 (NIV))
Discipleship is relational. Spreading the Gospel is relational. Loving people is relational.
Neither Jesus nor His disciples developed programs that took the place of true and loving relationships with people. Why do so many churches today push programs over relationships when they are trying to lead people to Jesus? We have men's programs. We have women's programs. We have college, youth and children's programs, but do we truly have Jesus?
We have lead pastors, administrative pastors, youth pastors, senior adult pastors, children's pastors and worship pastors, but when the focus is the organization instead of people, we lose Jesus. We become like the very Pharisees that Jesus called a brood of vipers.
Please don't misunderstand what I am saying.
If done correctly, these programs can become great ministry outreaches, but if we lose sight of how Jesus loved people, then all of the programs in the world won't amount to a hill of beans.
When we stand before the Lord, He is not going to ask you how many programs that you participated in. He will ask you how well you did at sharing the Gospel. He will ask you how well you used the talents that He gave you. He will ask you these questions even though He already knows the answers. He will ask then just as He is asking now, and as He has always asked. He wants each of us to examine our own hearts, our own lives, in the light of the only thing that matters. Did you love the Lord as He loves you and have you loved others as He loves them?
Jesus replied: "'Love the Lord your God with all your heart and with all your soul and with all your mind.' This is the first and greatest commandment. And the second is like it: 'Love your neighbor as yourself.' All the Law and the Prophets hang on these two commandments."
(Matthew 22:37-40 (NIV))
This is what we are called to do.
We don't need another program.
Jesus answered, "I am the way and the truth and the life. No one comes to the Father except through me.
(‭‭‭John‬ ‭14‬‬:‭6‬ (‭NIV‬‬))
We need Jesus!
Copyright 1998 – 2023 Dennis J. Smock
Daily Living Ministries, Inc.
https://www.dailylivingministries.org
Support Daily Living Ministries
Subscribe to daily email delivery
Visit us on facebook