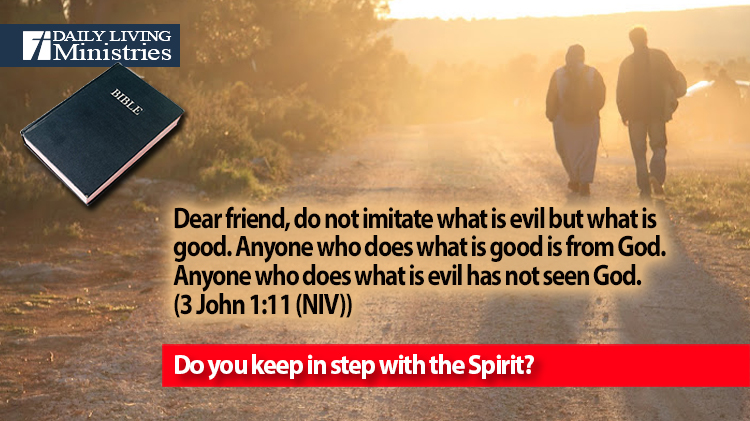 Be Still . . .
Devotionals for Daily Living ©
Dear friend, do not imitate what is evil but what is good. Anyone who does what is good is from God. Anyone who does what is evil has not seen God.
(3 John 1:11 (NIV))
What do you desire to do?
Do your thoughts turn toward sinful things such as greed and lust, or do you reflect upon the Word of God? Do your actions follow your thoughts?
It is human nature that we tend to do what is in our hearts. What is in our hearts is what we think on day and night. Our actions reflect what is truly inside. We may be able to put up a facade on many occasions. Still, when we are put to the test, our true desires and thoughts come out in our actions.
Preach always. When necessary, use words.
(St. Francis of Assisi)
St. Francis of Assisi knew that people watch us and judge our faith in Jesus on how we act. Like it or not, each one of us who profess a faith in Jesus as our Lord and Savior are under a microscope. Nonbelievers are watching us to see how we will react. They want to see if what we profess is real. If we have truly allowed Jesus in to our hearts, then our actions should reflect the Gospel and the fruit of the Spirit.
But the fruit of the Spirit is love, joy, peace, patience, kindness, goodness, faithfulness, gentleness and self-control. Against such things there is no law. Those who belong to Christ Jesus have crucified the sinful nature with its passions and desires. Since we live by the Spirit, let us keep in step with the Spirit.
(Galatians 5:22-25 (NIV))
Do you keep in step with the Spirit?
Copyright 1998 – 2022 Dennis J. Smock
Daily Living Ministries, Inc.
http://www.dailylivingministries.org
Support Daily Living Ministries
Subscribe to daily email delivery
Visit us on facebook