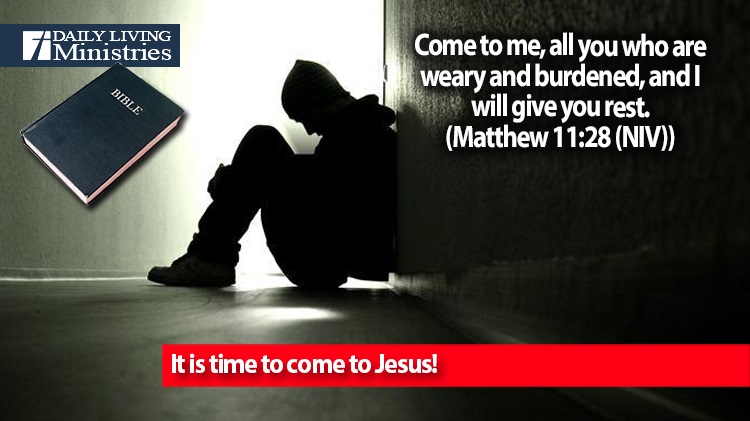 Be Still . . .
Devotionals for Daily Living ©
Come to me, all you who are weary and burdened, and I will give you rest.
(Matthew 11:28 (NIV))
There is never a bad time to turn to the Lord, but now is the best time if you haven't already accepted Jesus as your personal Lord and Savior!
With all that is going on in the world, turn to Jesus!
Are you weary and burdened because of evil being called good and good being called evil? Are you overwhelmed by the never-ending variants and lock downs? Are you uncertain about your income? Are you concerned about the shortages that just don't seem to go away?
No one knows what the future will bring, but, as followers of Jesus, we know who holds the future. We have been given insight into what will transpire in the end of days and it looks all to similar to the things that we have been seeing and are seeing unfold right before our eyes. A line from a song by the Atlanta Rhythm Section comes to mind. "The world is in an uproar and I see no end in sight" is very fitting at this time in history. If you look to the world, then you will be in an uproar, but if you look to Jesus, you will have peace and rest no matter what the world may send your way.
Do you long for rest?
The world has false hopes that a new year will bring about better days, but without turning to Jesus, the world will still be in an ever increasing uproar until the time comes when Jesus returns for His Bride, His church! Once that happens, what we are experiencing today will seem like a walk in the park.
The only way to insure that you will have a happy new year is to accept Jesus as your personal Lord and Savior today!
It is time to come to Jesus!
Copyright 1998 – 2021 Dennis J. Smock
Daily Living Ministries, Inc.
http://www.dailylivingministries.org
Support Daily Living Ministries
Subscribe to daily email delivery
Visit us on facebook