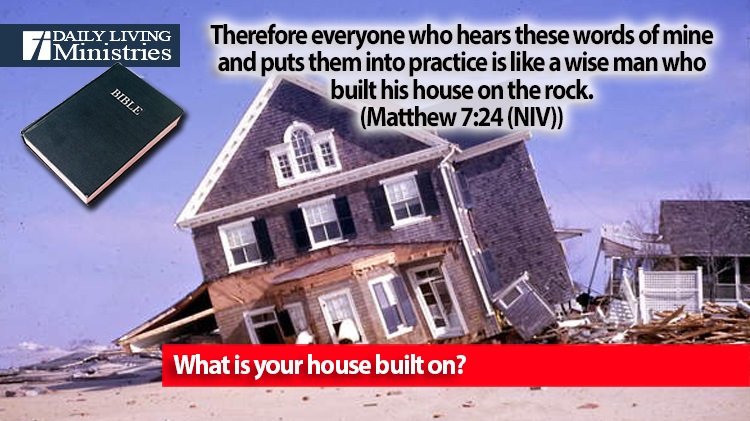 Be Still . . .
Devotionals for Daily Living ©
Therefore everyone who hears these words of mine and puts them into practice is like a wise man who built his house on the rock.
(Matthew 7:24 (NIV))
It is important to have a firm foundation!
If you don't believe this, try standing on a slippery floor in your socks, or try standing on an icy hill.
Stability is important in all aspects of life, both physical and spiritual. Everything that we do must have a firm foundation or it crumbles and falls out from underneath us. Too many of us look at the physical world and focus on our financial stability, yet we fail to even consider out faith as something that requires a firm foundation. We profess a faith in Jesus, yet we don't act like it. When the least bit of trouble occurs, we start looking at our resources to figure out what to do. We look at our finances. We look at our jobs. We look at our health, but we never look to Jesus when He should be the foundation of all the things that we do.
Now faith is confidence in what we hope for and assurance about what we do not see.
(Hebrews 11:1 (NIV))
What we turn to shows where we have placed our confidence. It shows where we have placed our hope. It shows where we have placed our assurance.
Think about that in relationship to the foundation of your house. Unless you were involved in the actual construction of your home, you have never seen its foundation. Yet, you trust that it will hold up your house. You have placed your confidence, your hope and your assurance on something that you have never seen. We trust the physical even when we cannot see what is there, so why do we not trust the spiritual when we also cannot see what is there? We have faith in the people who built our homes, yet we fail to have even that much faith in the One who gave us life, who gave us grace, who gave us mercy. When you don't look to Jesus' words and when you don't put them into practice, you are standing on the slippery floor. You are standing on an icy hill. You are unstable in the very foundations of your life.
If you are reading this, you have probably professed a faith in Jesus, but do you truly live your life firmly rooted in His firm foundation?
What is your house built on?
Copyright 1998 – 2023 Dennis J. Smock
Daily Living Ministries, Inc.
https://www.dailylivingministries.org
Support Daily Living Ministries
Subscribe to daily email delivery
Visit us on facebook