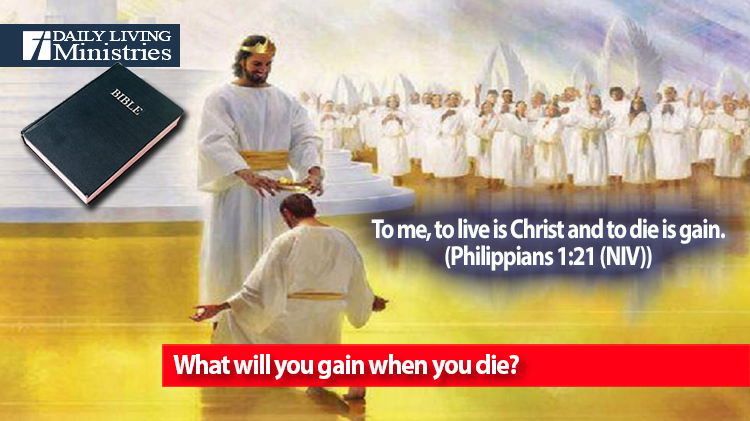 Be Still . . .
Devotionals for Daily Living ©
To me, to live is Christ and to die is gain.
(Philippians 1:21 (NIV))
I haven't written about this passage much before, but today I was going through my files and this particular passage and devotional caught my attention. I found myself reading it and I believe that someone needs to hear this at this point in their life.
I want you to carefully reread these words from this passage. Do they have a sound that is contrary to what we, as a society, tend to think about this world, life and "religion?"
Most people think of Jesus as a safety net for when we die, not as a way in which we can live in freedom.
The thief comes only to steal and kill and destroy; I have come that they may have life, and have it to the full.
(John 10:10 (NIV))
We are told that Jesus gives us life to the full, yet, we ignore Him until we face dying. Isn't it just like human nature to have our priorities turned around. We look to the promise of life when we are dying and look to sin and death when we are alive. For those who understand the truth behind these words, life is better with Jesus. There is hope. There is peace and there is grace.
Without Jesus, death is to be feared. We end up eternally separated from God and eternally cast away with Satan. With Jesus, death is not to be feared, for we will see the reward for our faith. We will walk with Jesus in the Kingdom of Heaven where we will be eternally at peace and in God's presence. When we look at it like this, death for a believer is gain. It is not to be feared. It is a reward for our faith and our priorities in this life. We have all heard that to be absent from the body is to be present with the Lord. If we are present with the Lord at our death, then we have "gained" eternal life through grace and mercy. This is truly gain.
What will you gain when you die?
Copyright 1998 – 2022 Dennis J. Smock
Daily Living Ministries, Inc.
https://www.dailylivingministries.org
Support Daily Living Ministries
Subscribe to daily email delivery
Visit us on facebook