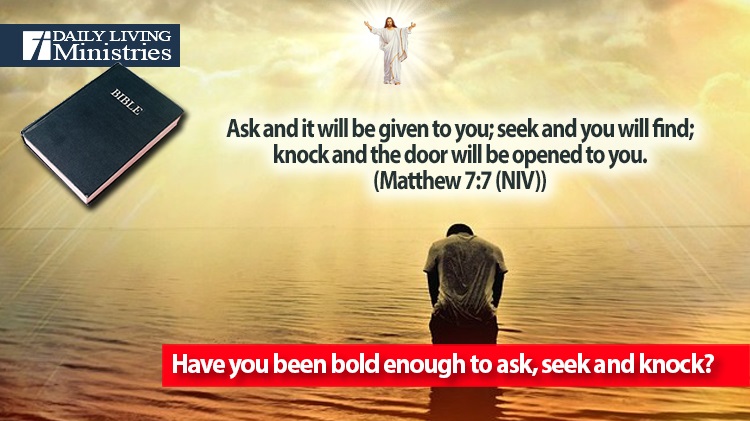 Be Still . . .
Devotionals for Daily Living ©
Ask and it will be given to you; seek and you will find; knock and the door will be opened to you.
(Matthew 7:7 (NIV))
Does this sound too good to be true?
There is absolutely nothing in this physical world that can honestly make one of these claims, let alone all three. If you ask for something, how often do you receive what you ask for? If you are looking for something, or seeking something, how often do you truly find what you are looking for? How many times in your life have you gone up to a door and knocked and found nobody was home? The physical world is full of unfulfilled expectations and desires. In most instances we do not get what we ask for. We do not get what we seek, and we do not get doors opened for us and get met with welcoming and open arms.
I love how these words from Matthew point us back to our basic human needs. We want to be heard when we ask. We want to receive what is good for us. We want to find faith, hope and love. We long to be welcomed with open arms in much the same way that a loving grandparent will open the door and embrace us when we go to visit. We long for peace and assurance that we are loved and not just some random mistake. We long for grace. We long for Jesus!
He is waiting!
For everyone who asks receives; the one who seeks finds; and to the one who knocks, the door will be opened.
(Matthew 7:8 (NIV))
Nothing in this world is guaranteed. We are not promised tomorrow. Ask for grace and mercy through the cross and it will be given to you. Seek salvation through Jesus and you will find it. Knock on the door to the very throne room of God, and with the gift of grace and mercy freely given through Jesus, it will be opened to you. It is up to you. You must ask. You must seek, and you must knock. We are told what will happen when we do.
We will receive the greatest gift to have ever been given.
We will find salvation and eternal life through Jesus.
We will have direct access to God the Father as His children.
Have you been bold enough to ask, seek and knock?
Copyright 1998 – 2021 Dennis J. Smock
Daily Living Ministries, Inc.
http://www.dailylivingministries.org
Support Daily Living Ministries
Subscribe to daily email delivery
Visit us on facebook