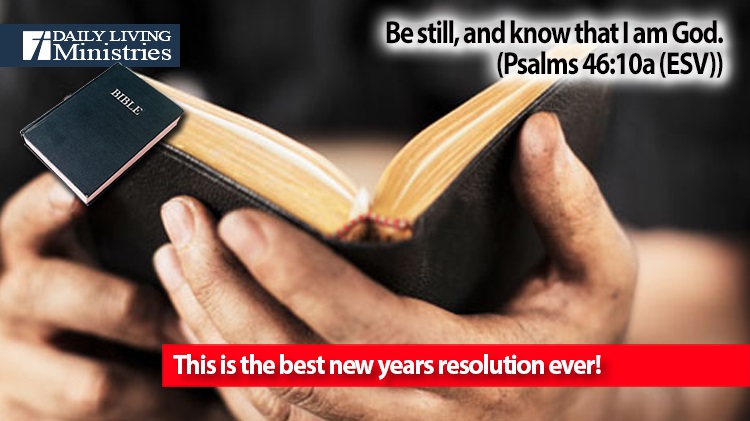 Be Still . . .
Devotionals for Daily Living ©
Be still, and know that I am God.
(Psalms 46:10a (ESV))
Did you make a new years resolution?
If you are like many each year who do just that, I hope that you know the probability of those resolutions being kept. I don't have the official stats, but I know that they are not good. Too many people simply give up far too soon!
If you want to make a resolution that will benefit you far greater than the proverbial exercise more, lose weight, find love, or change jobs, then I recommend that you do what the Lord told us to do in Psalm 46. I challenge you to take time each day and be still in the presence of God.
You don't have to buy a gym membership. You don't have to update your resume. You don't have to go on some fad diet, and you don't have to be someone whom you are not in order to find someone to spend time with. All that it takes is a Bible or Bible app, and a commitment to spend time getting to know the very heart of God. I realize that this sounds scary, but it is anything but scary. When you spend time diving deeper into His Word, you will find that it is actually a loving message from a Father to His children. I urge you to recall when you were young and your father or grandfather would have you climb up on their lap and then shower you with love. Getting to know God will give you the same type of feeling.
When you are still in the presence of God, it is a matter of reading His Word, talking to Him, and listening for His still, small voice.
In today's hectic world, this can mean many different things for different people. It can mean getting up earlier and opening up your Bible before anyone else is up. It can mean staying up after everyone else is in bed and diving into His Word. It can mean changing what you listen to in the car on your daily commute to an audio Bible. There are no right or wrong ways if you are truly earnest about your desire to know God. Don't think that you don't have the time. Take a serious look at your day and where you can make a few adjustments to be still in His presence.
Don't miss out on what He has in store for you!
This is the best new years resolution ever!
Copyright 1998 – 2023 Dennis J. Smock
Daily Living Ministries, Inc.
https://www.dailylivingministries.org
Support Daily Living Ministries
Subscribe to daily email delivery
Visit us on facebook