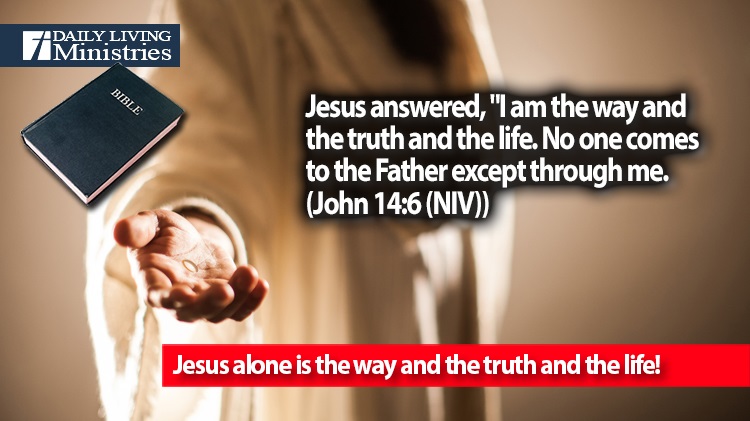 Be Still . . .
Devotionals for Daily Living ©
Jesus answered, "I am the way and the truth and the life. No one comes to the Father except through me.
(John 14:6 (NIV))
When you think of scripture passages that tell of Christmas, do you think of this passage?
To be honest with you, I hadn't thought of this passage in that context, but then I realized that in order for us to go through Jesus to the Father, He first had to come to us from the Father.
EVERYTHING is contingent upon the birth of Jesus!
Contrary to what society says, without the birth of Jesus we would not know the possibility of salvation. We would not know life to the fullest. We would not know miracles, and we definitely would not know of God's great love for us.
For God so loved the world that he gave his one and only Son, that whoever believes in him shall not perish but have eternal life. For God did not send his Son into the world to condemn the world, but to save the world through him. Whoever believes in him is not condemned, but whoever does not believe stands condemned already because they have not believed in the name of God's one and only Son.
(John 3:16-18 (NIV))
If you put things in perspective, everything written in God's Word before the birth of Jesus is written to point to His birth. Everything written after His birth would not have happened or will happen if His birth had never taken place. If you look at God's Word from this perspective, everything in God's Word is a Christmas story! We celebrate the birth of Jesus by continuing a tradition started by the wise men who came bearing gifts. We can't give them directly to Jesus, but we give them to celebrate what He gave us – salvation, grace and mercy!
Salvation is found in no one else, for there is no other name under heaven given to mankind by which we must be saved."
(Acts 4:12 (NIV))
No other name!
Jesus alone is the way and the truth and the life!
Copyright 1998 – 2022 Dennis J. Smock
Daily Living Ministries, Inc.
https://www.dailylivingministries.org
Support Daily Living Ministries
Subscribe to daily email delivery
Visit us on facebook