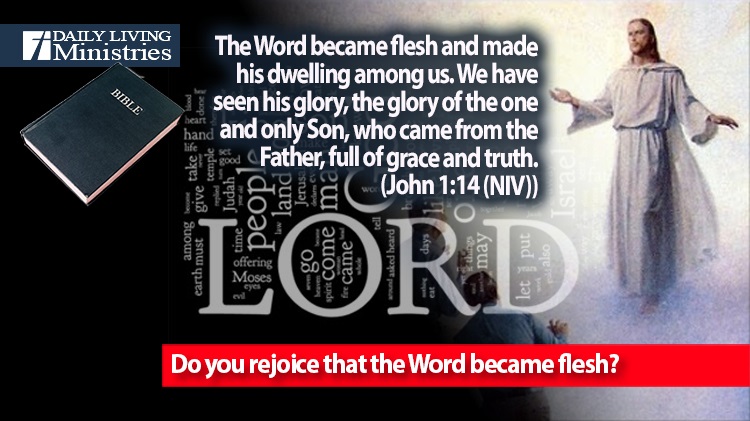 Be Still . . .
Devotionals for Daily Living ©
The Word became flesh and made his dwelling among us. We have seen his glory, the glory of the one and only Son, who came from the Father, full of grace and truth.
(John 1:14 (NIV))
What do you think of when you read this passage?
Without a point of reference, without a back-story that defines why glory, grace and truth were needed, this passage, even though it tells of His glory, doesn't tell the whole story. It doesn't tell why we need grace and truth.
For the law was given through Moses; grace and truth came through Jesus Christ.
(John 1:17 (NIV))
What do you think of when you think of the law? Do you think of man-made laws that recently seem to change with no rhyme or reason, or do you think of God's law that is never changing? Do you think of the failure of Adam and Eve to keep God's commands thus allowing sin into the world? Do you think of a righteous God who can not associate with sin? Do you think of a loving God who wants to restore us to a relationship with Himself?
Through Moses, God told us how He expected us to live. Through Moses, we have been shown how we are to love God, how we are to treat each other, and how we are to respect each other. Any deviation from God's perfect plan is sin.
for all have sinned and fall short of the glory of God,
(Romans 3:23 (NIV))
For the wages of sin is death, but the gift of God is eternal life in Christ Jesus our Lord.
(Romans 6:23 (NIV))
God took a look at the world and had a plan to redeem us. He knew that there was not a single person who could fulfill the letter of the Law perfectly, so He decided to take matters into His own hands and become a man so that He could live a perfect, sinless life for us. Through this perfect life, we are no longer under the law of sin and death. We are under the redemptive power of grace and truth through the atoning blood of Jesus! Is this what you think of when you read John 1:14? Do these two sentences cause you to reflect on your sinful nature and your inability to do anything about it? Do they give you reason to rejoice because you have accepted what God did for you when you couldn't do anything for yourself?
Do you rejoice that the Word became flesh?
Copyright 1998 – 2021 Dennis J. Smock
Daily Living Ministries, Inc.
http://www.dailylivingministries.org
Support Daily Living Ministries
Subscribe to daily email delivery
Visit us on facebook