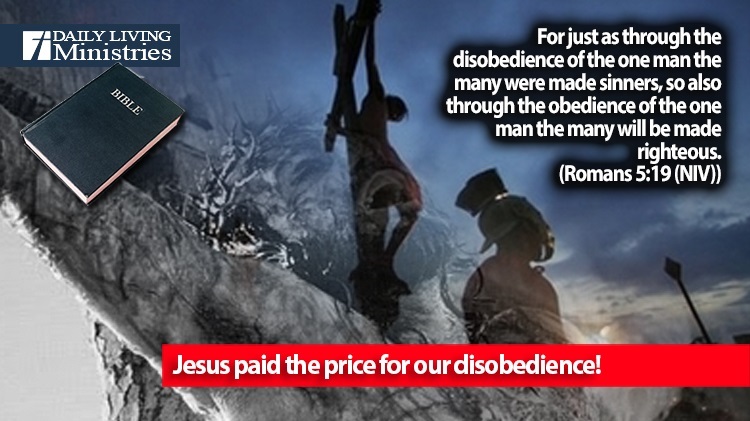 Be Still . . .
Devotionals for Daily Living ©
For just as through the disobedience of the one man the many were made sinners, so also through the obedience of the one man the many will be made righteous.
(Romans 5:19 (NIV))
I realize that this is a repeat, but it is worthy of repeating!
Easter is just about upon us. It is the day that we celebrate how the obedience of one perfect man made many righteous.
Have you ever played team sports? Each team sport allows for substitutions. Take a look at baseball. You can have someone take your place and run the bases for you. Basketball allows substitutions for various reasons, including the simple reason of giving someone a much needed rest. We see substitutions in football all of the time!
I'll let you in on a little secret. God perfected the substitution idea and allowed His only begotten Son, Jesus, to take our place so that we would not have to face the ultimate penalty. Jesus took it all upon Himself. He went into the game so that we could face life without the penalty of sin and death.
Friday will soon be upon us. It is the anniversary of when Jesus bore the cross and died as a substitute for us.
Rejoice!
That is not the end of the story. On the third day, Jesus arose and forever changed the rules. Grace abounds because God sent Jesus to substitute Himself and bear the burdens of our sins.
Therefore, there is now no condemnation for those who are in Christ Jesus, because through Christ Jesus the law of the Spirit of life set me free from the law of sin and death. For what the law was powerless to do in that it was weakened by the sinful nature, God did by sending his own Son in the likeness of sinful man to be a sin offering. And so he condemned sin in sinful man, in order that the righteous requirements of the law might be fully met in us, who do not live according to the sinful nature but according to the Spirit.
(Romans 8:1-4 (NIV))
One man made many righteous. Rejoice in that amazing gift this coming Resurrection Sunday. Don't stop there. Rejoice in that gift every single day!
Jesus paid the price for our disobedience!
Copyright 1998 – 2023 Dennis J. Smock
Daily Living Ministries, Inc.
https://www.dailylivingministries.org
Support Daily Living Ministries
Subscribe to daily email delivery
Visit us on facebook