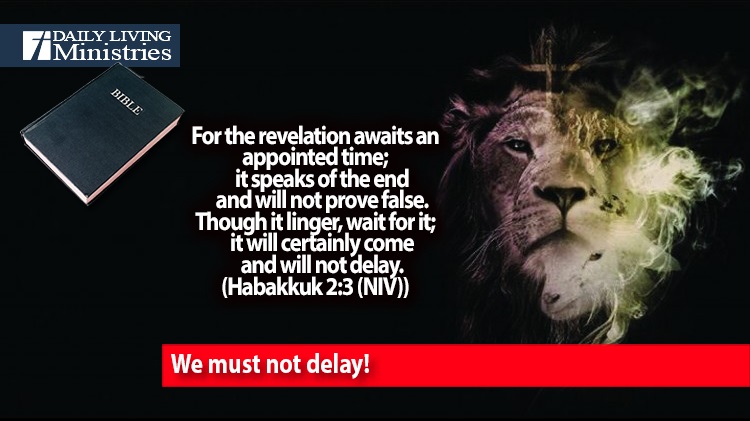 Be Still . . .
Devotionals for Daily Living ©
For the revelation awaits an appointed time;
     it speaks of the end
     and will not prove false.
Though it linger, wait for it;
     it will certainly come
     and will not delay.
(Habakkuk 2:3 (NIV))
It seems as if the whole world is impatient!
Everyone is waiting for something to happen. What they are waiting for is a matter of priorities. Each one of us have priorities, but they are not the same for everyone. To boil it all down, our priorities are are either selfish in nature, worldly in nature, or eternal in nature. No matter what our priorities may be, it is human nature that makes us not want to wait. We seek instant gratification in any way that we can. We seem to have forgotten the old saying that good things come to those who wait.
What are you waiting for?
Are you like Simeon and desire to see God's salvation?
Now there was a man in Jerusalem called Simeon, who was righteous and devout. He was waiting for the consolation of Israel, and the Holy Spirit was on him. It had been revealed to him by the Holy Spirit that he would not die before he had seen the Lord's Messiah. Moved by the Spirit, he went into the temple courts. When the parents brought in the child Jesus to do for him what the custom of the Law required, Simeon took him in his arms and praised God, saying:
"Sovereign Lord, as you have promised,
     you may now dismiss your servant in peace.
For my eyes have seen your salvation,
     which you have prepared in the sight of all nations:
a light for revelation to the Gentiles,
     and the glory of your people Israel."
(Luke 2:25-32 (NIV))
Do you desire to see what God will reveal to the world at His appointed time? Are you willing to stand firm in your faith in the face of the world and declare what Simeon saw with his own eyes? Are you willing to share the Gospel with a sinful and lost world? Are you willing to tell the world that God has a plan?
for all have sinned and fall short of the glory of God,
(Romans 3:23 (NIV))
For God so loved the world that he gave his one and only Son, that whoever believes in him shall not perish but have eternal life.
(John 3:16 (NIV))
Contrary to what the world says, there are not many ways to heaven!
Salvation is found in no one else, for there is no other name under heaven given to mankind by which we must be saved.
(Acts 4:12 (NIV))
Have you found this single source of salvation and claimed Him as your personal Lord and Savior? Time is short. No one knows what tomorrow will bring. It is time to proclaim the name of Jesus. No other name but Jesus!
We must not delay!
Copyright 1998 – 2021 Dennis J. Smock
Daily Living Ministries, Inc.
http://www.dailylivingministries.org
Support Daily Living Ministries
Subscribe to daily email delivery
Visit us on facebook