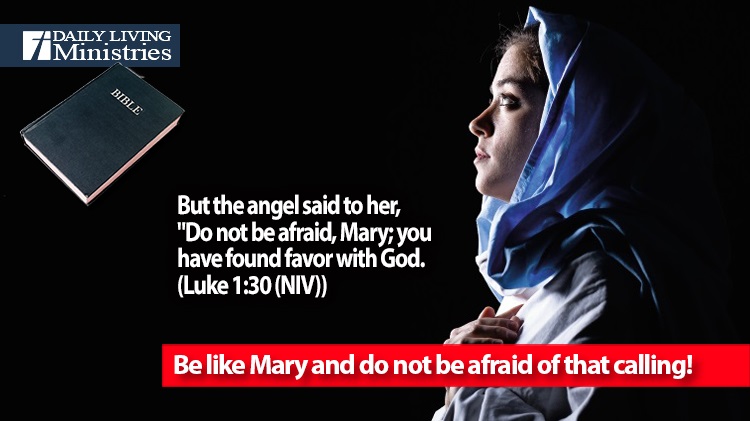 Be Still . . .
Devotionals for Daily Living ©
But the angel said to her, "Do not be afraid, Mary; you have found favor with God.
(Luke 1:30 (NIV))
Have you ever felt that you were being led by God to do something and your fear held you back?
I realize that none of us have ever had an experience like Mary did, but think about her fear. Think about her doubt. Think about her societal uncertainty.
Then, think about her faith!
God's eternal plan of salvation all hinged on the faith of a teenage girl who would be called to be obedient at an age that we, today, think is too immature to make rational decisions. What if your thirteen or fourteen year old daughter or granddaughter was asked to do what Mary did? Would she have the faith to see it through? Would you have the faith to walk through it with her and her young husband?
Oh, to have the faith that Mary had. Oh, to have the willing and obedient nature that Mary had.
I realize that Christmas is the time that we celebrate the birth of Jesus, but we must remember that God's plan called for an immaculate conception and a virgin birth. God's plan called for an unwavering faith from the one who would give birth to the Messiah. In other words, God chooses to work His plan through those who have the faith to rely on Him and to trust in Him. Mary was the quintessential example of such faith and trust. Her obedience was the tool through which God was able to bring salvation to a lost and sinful world.
She stepped out in faith and all of humanity now has the promise of salvation fulfilled through Jesus.
We may not be called to be the one to do great things. We may be the one called to simply bring the good news to someone who will. That one act may be the great thing that God has called us to do.
Be like Mary and do not be afraid of that calling!
Copyright 1998 – 2022 Dennis J. Smock
Daily Living Ministries, Inc.
https://www.dailylivingministries.org
Support Daily Living Ministries
Subscribe to daily email delivery
Visit us on facebook