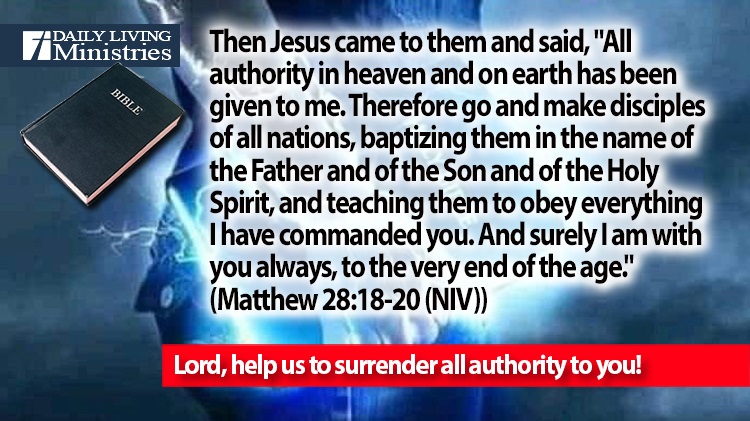 Be Still . . .
Devotionals for Daily Living ©
Then Jesus came to them and said, "All authority in heaven and on earth has been given to me. Therefore go and make disciples of all nations, baptizing them in the name of the Father and of the Son and of the Holy Spirit, and teaching them to obey everything I have commanded you. And surely I am with you always, to the very end of the age."
(Matthew 28:18-20 (NIV))
Do you treat Jesus as if He has all authority in heaven and on earth, or do you treat Him as your personal servant – a servant who bows to your authority?
Sadly enough, too many people treat Jesus as their personal servant. They treat Him as if His only reason for existence was to take care of their every whim and desire. They have no understanding of who Jesus truly is and, therefore, they have no desire to do what He asks of us. They simply expect Him to do what they ask of Him. They will not relinquish the authority.
Who has authority in your life?
Do you follow Jesus or do you expect Him to follow you?
Do you tell others about Jesus and what He has done in your life, or do you tell others about "your" accomplishments and never mention Jesus?
Do others see Jesus in you, or do they express astonishment when someone tells them that you are a Christian?
Do you make disciples for Jesus or do you have to be reminded that you are a disciple?
Do you follow His teachings, or do you only acknowledge them for an hour on Sunday?
I know that these are tough questions, but they are questions that we must constantly ask ourselves. It is so easy to begin to believe that we are the ones in charge of our lives.
We have no authority.
Can we, by our own doing, extend the number of our days? Can we create life out of nothing? Can we stop the sun from rising or the winds from blowing?
If we are to truly fulfill the task that Jesus gave us in this passage, we must recognize that He is in authority and not us. He is not ours. We are His. I know that I have failed many times, but it is my desire to place Jesus in authority. I do not want to stand before Him and hear Him say that he does not know me.
Lord, help us to surrender all authority to you!
Copyright 1998 – 2022 Dennis J. Smock
Daily Living Ministries, Inc.
http://www.dailylivingministries.org
Support Daily Living Ministries
Subscribe to daily email delivery
Visit us on facebook