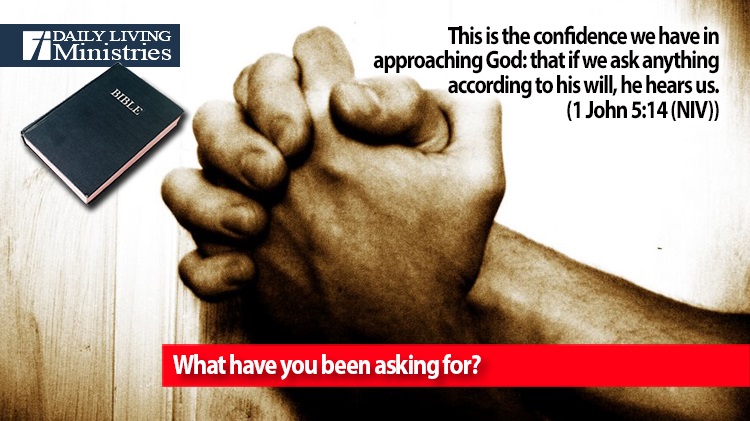 Be Still . . .
Devotionals for Daily Living ©
This is the confidence we have in approaching God: that if we ask anything according to his will, he hears us.
(1 John 5:14 (NIV))
Did you notice the stipulation in this passage?
All too often, people ask God for things that are from their will and not His. We are so self-centered that even when we are told to bring our concerns to the Lord, we ask as if we were the center of all creation. We ask as if God is our own personal servant whose only purpose is to fulfill our every desire. If this is how you have been approaching God, how has this been going for you?
Do you even spend time in God's Word in search of His heart?
Do you even spend time in prayer talking to God and actually listening for His still, small voice?
How can you ask God for things that are according to His Will if you don't even know what His Will is?
We know that God loves us. This is evident through the gift of salvation freely given through the cross. But, do we love Him in return? Do we simply give lip service to this gift and then continue to live as if we are still a part of this sinful, fallen world? Or, do we actually have a change of heart and see the world for what it is? Do we realize that the things that we had desired are now simply last grasps at the world that we say we want to leave behind?
God is not going to hear us if we ask for things of this world. God is not going to answer us if we are only being selfish in our desires.
Think about a young child in a toy store. Every other word out of their mouth is asking for the latest thing that has caught their eye. The parents know what is good and what is proper, yet the child still goes on and on about the things that they want. We are those children. The world is the toy store. God is ushering us through this world while trying to mature us enough so that what we ask for is not what is seen at every selfish turn of our heads. God is not going to give us the toy store of the world. He is going to give us things that are from Him according to His Will. He is going to give us things that will draw us closer to Him while they mature us in our faith.
God does want to bless us, but what we think of as a blessing is not how God thinks of blessings.
If you have been approaching God and you feel that He has not heard you, then you need to ask yourself one very important question.
What have you been asking for?
Copyright 1998 – 2023 Dennis J. Smock
Daily Living Ministries, Inc.
https://www.dailylivingministries.org
Support Daily Living Ministries
Subscribe to daily email delivery
Visit us on facebook