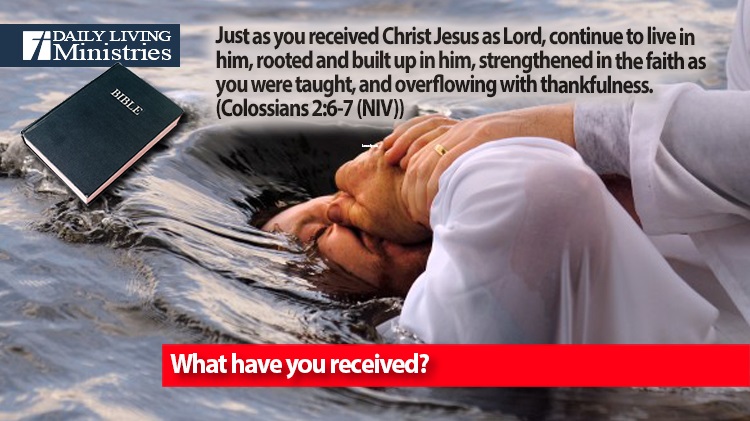 Be Still . . .
Devotionals for Daily Living ©
Just as you received Christ Jesus as Lord, continue to live in him, rooted and built up in him, strengthened in the faith as you were taught, and overflowing with thankfulness.
(Colossians 2:6-7 (NIV))
Too many people believe that accepting Jesus is all that they need to do in order to achieve salvation. They proclaim Him as Savior, but never allow Him to be Lord. They continue in their old habits and continue to live as if they had a license to sin. They have a false understanding of the salvation that Jesus came to bring to us.
Accepting Jesus as your Savior is part of the first step. We must also accept Him as our personal Lord. We must willingly give ourselves over to Jesus and allow His life to manifest itself through our life. We must live in Him. We must live in God's Word!
The Word became flesh and made his dwelling among us. We have seen his glory, the glory of the One and Only, who came from the Father, full of grace and truth.
(John 1:14 (NIV))
It is vital that we not only accept Jesus as our Savior, we must accept Him as our Lord. Think about this. Jesus is the Word made man. We must accept Jesus as our Lord. We must accept all of God's Word as our Lord, not only the parts that we like.
What have you accepted? What have you received?
Copyright 1998 – 2021 Dennis J. Smock
Daily Living Ministries, Inc.
http://www.dailylivingministries.org
Support Daily Living Ministries
Subscribe to daily email delivery
Visit us on facebook