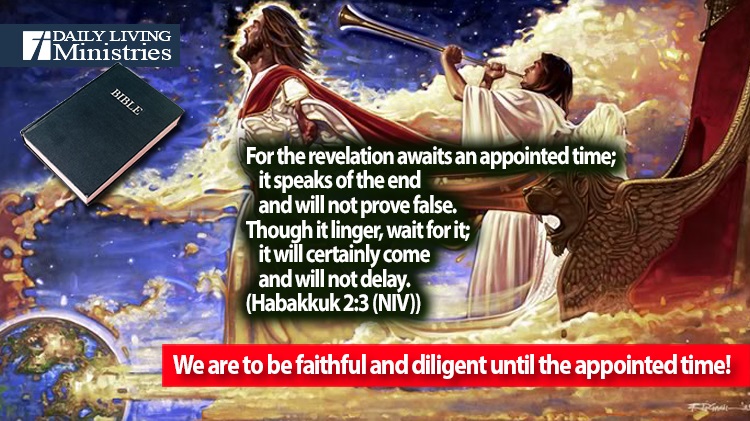 Be Still . . .
Devotionals for Daily Living ©
For the revelation awaits an appointed time;
    it speaks of the end
    and will not prove false.
Though it linger, wait for it;
    it will certainly come
    and will not delay.
(Habakkuk 2:3 (NIV))
Are you tired of waiting?
If you profess a faith in Jesus as your personal Lord and Savior, then there are several things that you know will happen because we have been told that they would happen. Still, waiting is never easy, especially when you see the things that are happening in this world, and you know that the only hope that this world has is Jesus!
If you were taken in the rapture at this very moment, would you be upset? Are there things in this world that you don't want to let go of? Take a good look at your priorities and be completely honest with yourself when you answer.
Most believers long to be with Jesus., yet, we are torn. We desire to be with Jesus in the presence of the Father, yet, we all have someone whom we love who has not come to the saving knowledge of Jesus as their personal Lord and Savior. For this, I am willing to wait. For this, I am praying for friends and family to repent and come to salvation through Jesus.
The Lord is not slow in keeping his promise, as some understand slowness. Instead he is patient with you, not wanting anyone to perish, but everyone to come to repentance.
(2 Peter 3:9 (NIV))
I realize that I am being selfish when I long for the appointed time. I am guilty of seeing this promise through the eyes of someone who has already accepted their salvation. I need to open my eyes and see this as Jesus sees it. I need to realize that the Father does not wish for any to perish. If that is the Father's wish, then it must be mine as well.
Still, there is coming a time, an appointed time, that will not delay. We must be prepared for that time as it rapidly approaches. We must also be diligent in our assignment, for we have not been given a reprieve.
Then Jesus came to them and said, "All authority in heaven and on earth has been given to me. Therefore go and make disciples of all nations, baptizing them in the name of the Father and of the Son and of the Holy Spirit, and teaching them to obey everything I have commanded you. And surely I am with you always, to the very end of the age."
(Matthew 28:18-20 (NIV))
We are to continue to make disciples. We are to continue baptizing. We are to continuing teaching.
We are to be faithful and diligent until the appointed time!
Copyright 1998 – 2023 Dennis J. Smock
Daily Living Ministries, Inc.
https://www.dailylivingministries.org
Support Daily Living Ministries
Subscribe to daily email delivery
Visit us on facebook