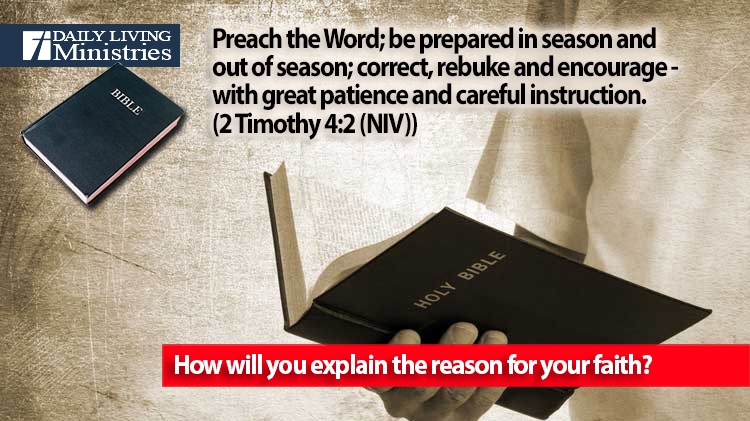 Be Still . . .
Devotionals for Daily Living ©
Preach the Word; be prepared in season and out of season; correct, rebuke and encourage – with great patience and careful instruction.
(2 Timothy 4:2 (NIV))
We are to always be prepared to preach the Word. There is a saying, "At all times preach the Gospel, if you have to, use words." Actions speak louder than words. Speak through your actions, but be prepared to give testimony as to the reason you do what you do.
God has given us a tremendous gift. A gift that He wants to share with the whole world. Jesus spent three years preaching and teaching about that gift, and then He paid the ultimate price so that the gift could be bestowed. It is a gift that is to be shared. Do not keep it to yourselves. Give it to anyone and everyone who will hear it.
Remember that many people are influenced by actions. Be an example to them of what God's great mercy and love has done for you, and then be prepared to share it with them in words as well as actions.
How will you explain the reason for your faith?
Copyright 1998 – 2023 Dennis J. Smock
Daily Living Ministries, Inc.
https://www.dailylivingministries.org
Support Daily Living Ministries
Subscribe to daily email delivery
Visit us on facebook