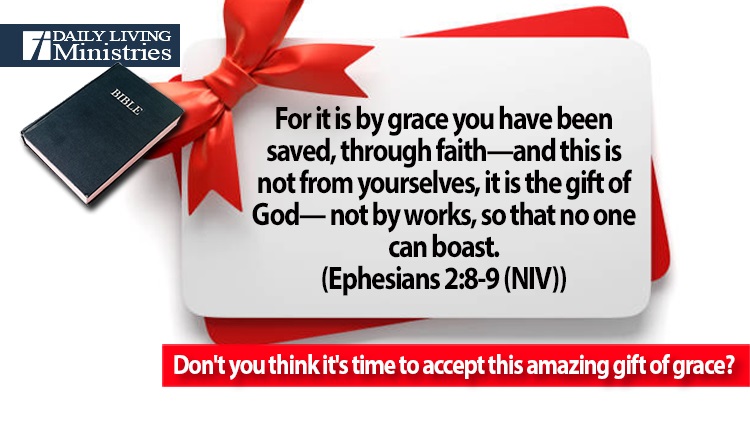 Be Still . . .
Devotionals for Daily Living ©
For it is by grace you have been saved, through faith—and this is not from yourselves, it is the gift of God— not by works, so that no one can boast.
(Ephesians 2:8-9 (NIV))
Do you like gifts?
I realize that I just asked a rhetorical question. Human nature seeks things that are self gratifying, so I can honestly say that I have never met anyone who hates gifts. In fact, most people love to receive gifts. Since this is part of our nature, why do so many people fail to receive the greatest gift of all?
It simply doesn't make sense!
Thankfully, there are people who have received this amazing gift of grace and are doing all that they can to share the knowledge of this gift to all who will hear, no matter where it may lead them. As I write this, I am tracking a flight that is going half way around the world so that a group of nine men, including my youngest son, can share the Gospel with an unreached tribe in a mountainous region of a country that I don't want to currently name. They feel called to go and share the good news in a place that is so far outside of the comfort zones of most people in this country. They are flying for two days, and then hiking for three days just to reach this group of people. They know that this gift is so great that it must be shared!
And how can anyone preach unless they are sent? As it is written: "How beautiful are the feet of those who bring good news!"
(Romans 10:15 (NIV))
Do you feel that you are being sent to share this amazing gift of grace?
Let me ask another question. Have you even claimed this gift for yourself?
In most of the westernized world, there are churches everywhere. There are preachers and teachers sharing the good news. You can find Bibles in almost every hotel room and in almost every major retail store. You can turn on the television or go to a video website and watch people sharing the Gospel. You can turn on the radio and hear people proclaiming the good news, yet, so many people still turn a blind eye to the truth that can set them free from the power of sin and death. If you are one of these people, don't wait until it is too late! If people are willing to go half way around the world for people whom they don't know, don't you think that there is something to this good news that you need to look at?
Don't you think it's time to accept this amazing gift of grace?
Copyright 1998 – 2022 Dennis J. Smock
Daily Living Ministries, Inc.
https://www.dailylivingministries.org
Support Daily Living Ministries
Subscribe to daily email delivery
Visit us on facebook