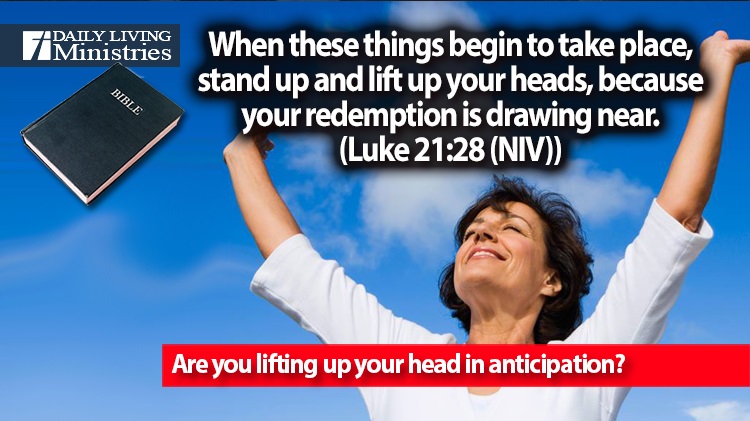 Be Still . . .
Devotionals for Daily Living ©
When these things begin to take place, stand up and lift up your heads, because your redemption is drawing near.
(Luke 21:28 (NIV))
Are you standing up?
Are you lifting your head in anticipation of your redemption drawing near?
If you have been paying any attention to the events transpiring in this world, you probably have a sense that something is about to happen. I do not even want to start to speculate about the day or the hour of God's plans unfolding, but I do know that the stage is rapidly being set. Sadly, most people who profess a faith in Jesus as their personal Lord and Savior only look to Jesus as the assurance of salvation when they die. They fail to realize that we have been told that not everyone would die.
Listen, I tell you a mystery: We will not all sleep, but we will all be changed— in a flash, in the twinkling of an eye, at the last trumpet. For the trumpet will sound, the dead will be raised imperishable, and we will be changed.
(1 Corinthians 15:51-52 (NIV))
Are you ready?
Are you truly prepared to be changed in the twinkling of an eye? Do you think that you can claim the name of Jesus and not have a relationship with Jesus as Lord? Do you spend time in God's Word and in His presence? Do you long to know the very heart of God?
"Not everyone who says to me, 'Lord, Lord,' will enter the kingdom of heaven, but only the one who does the will of my Father who is in heaven. Many will say to me on that day, 'Lord, Lord, did we not prophesy in your name and in your name drive out demons and in your name perform many miracles?' Then I will tell them plainly, 'I never knew you. Away from me, you evildoers!'
(Matthew 7:21-23 (NIV))
It takes more than listening to a twenty minute sermon once a week. It takes a commitment just as any relationship takes commitment. Each of us need to be so in tune with the Lord that when things happen in this world that break His heart, it will break ours as well. Each of us need to know His desire to see everyone saved, but we must also learn to accept that there will be a point in time when He says that it is time. We have been told what to look for. We have been told that when these things happen, the kingdom of God is near. We have even been told the timeframe.
Truly I tell you, this generation will certainly not pass away until all these things have happened.
(Luke 21:32 (NIV))
Many people who have diligently studied God's Word believe that we are that generation, that we are the ones who should be lifting up our heads in earnest anticipation of our redemption drawing near!
Are you lifting up your head in anticipation?
Copyright 1998 – 2021 Dennis J. Smock
Daily Living Ministries, Inc.
http://www.dailylivingministries.org
Support Daily Living Ministries
Subscribe to daily email delivery
Visit us on facebook