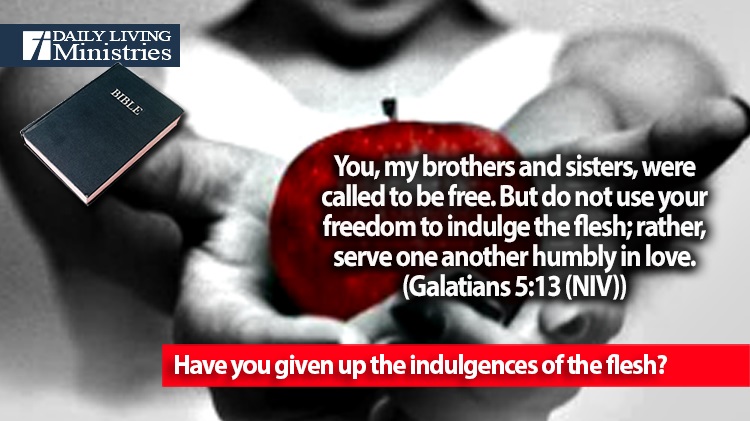 Be Still . . .
Devotionals for Daily Living ©
You, my brothers and sisters, were called to be free. But do not use your freedom to indulge the flesh; rather, serve one another humbly in love.
(Galatians 5:13 (NIV))
Do you still indulge in your past sins?
If you have professed a faith in Jesus as your personal Lord and Savior, what does your answer say about your faith?
By professing a faith in Jesus, you have admitted that you are a sinner in need of a Savior, but that does not mean that we can continue in our sin. Think of this in comparison to the relationship of a husband and wife. What happens when one spouse commits adultery and the other spouse forgives them? Does that forgiveness give the one who strayed in the relationship permission to do it again? If you answered that it does not, then why do those who profess a faith in Jesus do what we all agree should not happen?
We are told that the Blood of Jesus washes away all of our sins and that we are made white as snow through the cleansing blood of the Lamb. I love this amazing fact, this amazing gift of grace! I also love that if we truly seek His face, we are forgiven. If we repent, we are forgiven. It is a matter of attitude. We must desire to change. We must desire to repent daily and follow Jesus, but we are told that we are not to continue to deliberately choose to sin. We are to focus on Jesus and when we focus on Jesus, the sin that we have indulged our fleshly nature with soon becomes non-desirable and eventually nonexistent.
But, we can't do it on our own. We must rely on Jesus every single moment of every single day of our lives!
There is a saying that each of us has a God-shaped hole that we try to fill with anything and everything that a human heart and a human mind can conceive. When we indulge the flesh, we attempt to fill that hole with the conceptions of our sinful nature. When we choose to serve one another humbly in love and obedience to Jesus, we indulge the righteousness that we are called to emulate. We choose to fill that God-shaped hole with what God intended.
It comes down to a personal choice.
What choices do you make on a daily basis?
Have you given up the indulgences of the flesh?
Copyright 1998 – 2023 Dennis J. Smock
Daily Living Ministries, Inc.
https://www.dailylivingministries.org
Support Daily Living Ministries
Subscribe to daily email delivery
Visit us on facebook