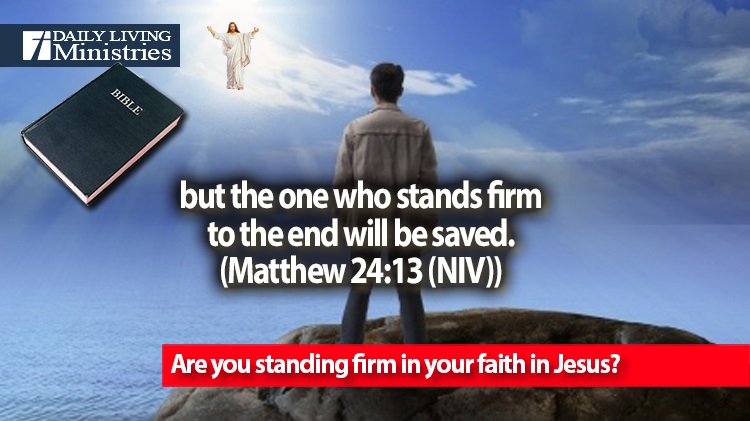 Be Still . . .
Devotionals for Daily Living ©
but the one who stands firm to the end will be saved.
(Matthew 24:13 (NIV))
There is an old saying that if you don't stand for something, you will fall for anything.
I believe that Joshua had it right when he addressed the Israelites at Shechem. He challenged them to serve the Lord. He challenged them to stand with the Lord in all that they would do. He told them that they needed to make a choice and he told them what his choice was going to be.
But if serving the Lord seems undesirable to you, then choose for yourselves this day whom you will serve, whether the gods your ancestors served beyond the Euphrates, or the gods of the Amorites, in whose land you are living. But as for me and my household, we will serve the Lord."
(Joshua 24:15 (NIV))
Sadly, we know the history of the number of times that the Israelites did not stand with the Lord. We know the consequences of them going after other gods. We know the consequences of them forsaking His commands. We know the consequences of their rebellion. In essence, after a few generations, they no longer stood firm in their faith, and as we repeatedly read, they were divided, they were exiled and they were abandoned by the Lord because they had abandoned Him. They had experience the power and the truth and yet they fell for any and all distractions that they were presented with. They lost sight of the Lord and found that their eyes and their hearts wandered to the follies of the world.
The events of the last several years are ever present in our minds as we look to what can and probably will unfold in the future. If we don't keep our eyes focused on Jesus, if we don't stand firm in our faith, we can easily fall for the lies of the enemy. What do you see in your life as you look to the future? Do you see uncertainty, lies and trouble or do you see Jesus? We must not lose sight of the truths presented by Paul. We must stand firm in our faith in Jesus or we will fall for false gods just as the Israelites did.
Therefore, since we are surrounded by so great a cloud of witnesses, let us also lay aside every weight, and sin which clings so closely, and let us run with endurance the race that is set before us, looking to Jesus, the founder and perfecter of our faith, who for the joy that was set before him endured the cross, despising the shame, and is seated at the right hand of the throne of God.
(Hebrews 12:1-2 (ESV))
Are you standing firm in your faith in Jesus?
Copyright 1998 – 2022 Dennis J. Smock
Daily Living Ministries, Inc.
http://www.dailylivingministries.org
Support Daily Living Ministries
Subscribe to daily email delivery
Visit us on facebook