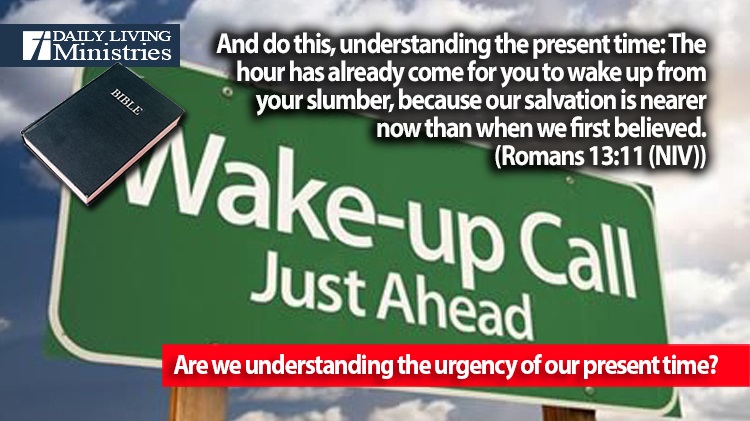 Be Still . . .
Devotionals for Daily Living ©
And do this, understanding the present time: The hour has already come for you to wake up from your slumber, because our salvation is nearer now than when we first believed.
(Romans 13:11 (NIV))
When Paul wrote these words to the Romans, he was warning them that the time had come to wake up from their sinful slumber for salvation was at hand. They had been living with no hope of salvation and Paul's words were used as a proclamation that they now had hope, and that this hope was firmly grounded in Jesus!
Today, after two thousands years, we must be able to understand a different present time.
As believers in Jesus as our personal Lord and Savior, we know that salvation is ours if we profess this faith and call upon the name of Jesus. Salvation has been made available to a sinful, fallen world for two thousand years. Today, we must watch and wait for the fulfillment of God's plans as He draws the church age to a close.
I have stated many times in recent years that I, like many others, feel that God's plans are rapidly unfolding right before our eyes. The events that we watch are too numerous to list here, for they are many. Just as God used Paul to tell the Romans that salvation was then available, I believe that God is using many things in this world to tell us of this present time. He is telling us to wake from our slumber.
The night is nearly over; the day is almost here. So let us put aside the deeds of darkness and put on the armor of light.
(Romans 13:12 (NIV))
Paul preached salvation and grace based on his Damascus Road encounter with Jesus. He was correct in spreading this good news, this Gospel, to a sinful, fallen world. He was correct in helping them to understand that their time to repent was upon them. Today, we are closer to the time when Jesus gathers His church to Himself. Today, we are closer to the time when every knee will bow and every tongue confess that Jesus is Lord. Today, we are in the times when we must do as Paul did and preach the Gospel to all whom we encounter.
Have we been woken up from our slumber?
Are we understanding the urgency of our present time?
Copyright 1998 – 2023 Dennis J. Smock
Daily Living Ministries, Inc.
https://www.dailylivingministries.org
Support Daily Living Ministries
Subscribe to daily email delivery
Visit us on facebook