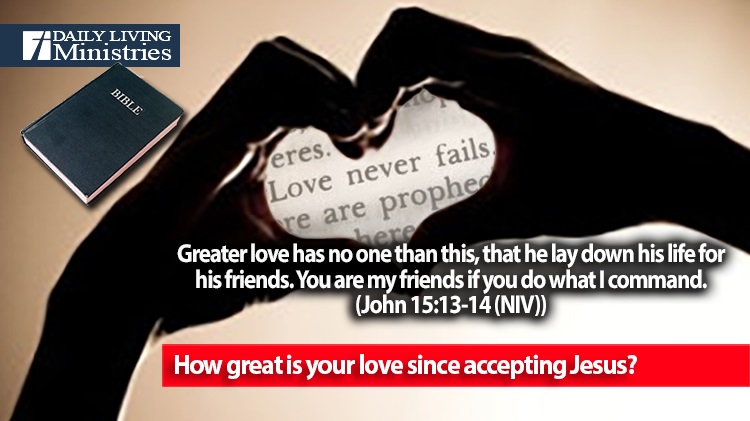 Be Still . . .
Devotionals for Daily Living ©
Greater love has no one than this, that he lay down his life for his friends. You are my friends if you do what I command.
(John 15:13-14 (NIV))
Jesus must have counted the whole world's population, before, then and in the future, to be His friends. He did exactly what was stated in John 15:13. He laid down His life, and He did it without any hesitation. He could have easily changed the course of the events that lead up to His crucifixion, yet, He let them play out exactly as God the Father had intended for them to happen.
Why would anyone be willing to do such a thing?
Faith, hope and love!
Faith that you are not ending your existence, but are placing your eternal existence in the hands of God the Father. Hope that those who receive the benefit of your sacrifice will turn from their ways and follow the Will of God. Love of others to such an extent that you do not think of the consequences to yourself if you follow through with your actions.
We think that we would be able to lay down our lives for those whom we love, such as spouse and children, yet, how many of us would be willing to perform the same act for someone we do not know? We may never know the truth about our intentions versus our actual actions, yet, we must be ready to do whatever is called on from us no matter what or who is involved.
Even when we stop to give thanks to all who have willingly made the ultimate sacrifice so that we could have the freedoms that we have, do we truly understand the how and why of such great a worldly sacrifice? If we give thanks to those whom we don't know and many never knew us, why do we have such trouble giving thanks to the Lord for His greater sacrifice, especially when He calls us friends?
What if Jesus had stopped to think? What if He came to the realization that Bob, Joe, Mary, and Sue will never amount to anything? What if He had then drawn the conclusion that he would not do what He needed to do? What if He thought that they, that we, do not deserve it!
But, he did not do this! He went to the cross for all of us. Are we ready to do what we must do when the time comes?
How great is your love since accepting Jesus?
Copyright 1998 – 2023 Dennis J. Smock
Daily Living Ministries, Inc.
https://www.dailylivingministries.org
Support Daily Living Ministries
Subscribe to daily email delivery
Visit us on facebook