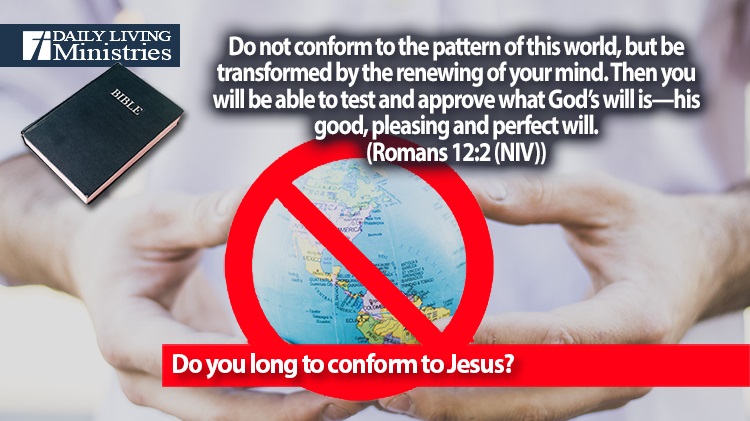 Be Still . . .
Devotionals for Daily Living ©
Do not conform to the pattern of this world, but be transformed by the renewing of your mind. Then you will be able to test and approve what God's will is—his good, pleasing and perfect will.
(Romans 12:2 (NIV))
I don't know about you, but I want to have nothing to do with the world as it is!
There is absolutely nothing in what is happening that is patterned after what God desires. It may be in His plans, but He does not desire to see any perish. He knows that evil will make one last stand against His plans. Even so, the Lord desires righteousness. He does not desire good being called evil and evil being called good. He does not desire sin to be tolerated, yet it is openly embraced. He does not desire to see the persecution of His church. He does not desire to see people who profess a faith in Jesus distort His teachings. He does not desire to hear His name profaned, yet that is where we are in history. It is true that things have been happening all throughout history, but there is an acceleration, there is a convergence of events like never before.
Do you feel it?
Do you understand that something is not status quo?
The whole world is seeing things like never before. Do you recognize these events?
Then he said to them: "Nation will rise against nation, and kingdom against kingdom. There will be great earthquakes, famines and pestilences in various places, and fearful events and great signs from heaven.
(Luke 21:11-12 (NIV))
If this is what conforming to the world looks like, I don't want any part of it!
I only want Jesus!
I want to conform to Jesus. I want to mature in my faith to be like Jesus even if it means persecution.
"But before all this, they will seize you and persecute you. They will hand you over to synagogues and put you in prison, and you will be brought before kings and governors, and all on account of my name.
(Luke 21:12 (NIV))
Now is the time to immerse yourself in His Word. Renew your mind so that it desires His righteousness and detests the evils of this world. Renew your mind so that you can recognize God's will and run from the lies of the enemy.
Do you long to conform to Jesus?
Copyright 1998 – 2021 Dennis J. Smock
Daily Living Ministries, Inc.
http://www.dailylivingministries.org
Support Daily Living Ministries
Subscribe to daily email delivery
Visit us on facebook