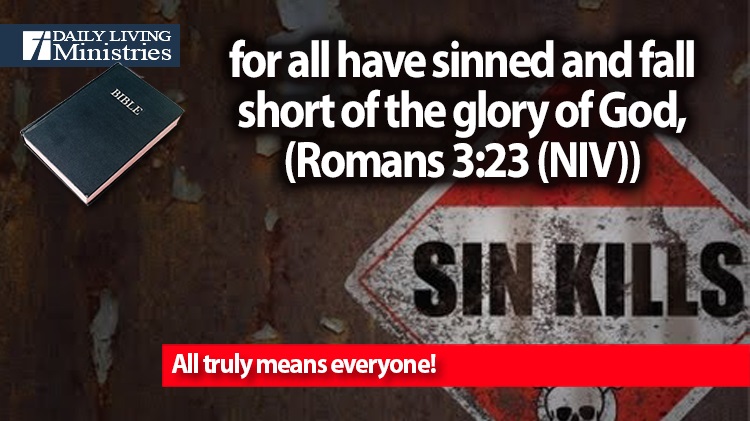 Be Still . . .
Devotionals for Daily Living ©
for all have sinned and fall short of the glory of God,
(Romans 3:23 (NIV))
Do you think that you are a good person?
What is your basis for your answer and who are you comparing yourself to?
Human nature is a strange thing. We have a tendency to look at each other and compare ourselves to what we see and then base our personal analysis on how we compare to others. We claim that we are not murderers, thieves or adulterers, but we fail to recognize that these sins that are big in our eyes are the same as the small sins in the eyes of God. Have you ever borrowed an ink pen and then kept it? Have you ever longed to have the nice car or big house that you friends have?
Basically, it all comes down to pride!
Every single person who has ever lived has been guilty of thinking that they are better than everyone else in at least one thing if not more. What we fail to realize is that God doesn't judge us by comparing us to each other. He judges us by comparing us to His standard of righteousness as embodied in Jesus. When we look past each other and start comparing ourselves to Jesus, hopefully we will see our shortcomings and turn to Jesus to repent and seek salvation.
"There is no one righteous, not even one;
(Romans 3:10b (NIV))
We must look to Jesus as the benchmark. He is the role model. He not only showed us what is expected, He paved the way to receive salvation based on His ability to do what we could not.
For God so loved the world that he gave his one and only Son, that whoever believes in him shall not perish but have eternal life. For God did not send his Son into the world to condemn the world, but to save the world through him. Whoever believes in him is not condemned, but whoever does not believe stands condemned already because they have not believed in the name of God's one and only Son.
(John 3:16-18 (NIV))
No matter what you may think of yourself, we are all sinners in need of a savior. For those of you who like to play with semantics, all only has one true meaning.
All truly means everyone!
Copyright 1998 – 2021 Dennis J. Smock
Daily Living Ministries, Inc.
http://www.dailylivingministries.org
Support Daily Living Ministries
Subscribe to daily email delivery
Visit us on facebook