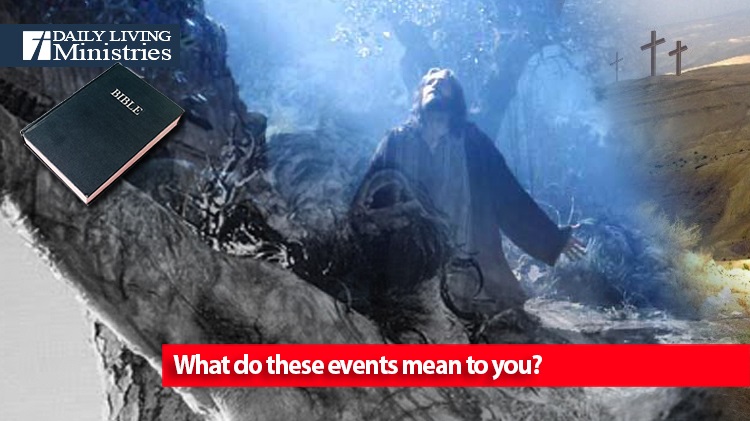 Be Still . . .
Devotionals for Daily Living ©
Going a little farther, he fell with his face to the ground and prayed, "My Father, if it is possible, may this cup be taken from me. Yet not as I will, but as you will."
Then he returned to his disciples and found them sleeping. "Could you men not keep watch with me for one hour?" he asked Peter. "Watch and pray so that you will not fall into temptation. The spirit is willing, but the body is weak."
He went away a second time and prayed, "My Father, if it is not possible for this cup to be taken away unless I drink it, may your will be done."
(Matthew 26:39-42 (NIV))
Many people think that Jesus did not know anguish and pain!
These words show that on the day leading up to what we know as Good Friday, Jesus feared what was to come, yet, still was obedient to the Father's Will for Himself and for us. Think about the events that we remember this weekend and welcome them into your lives as the key events that they actually are. Put yourself in the events.
What did Jesus feel? What made the crowds turn upon Him? Would you have been like Peter? Would you be at the foot of the cross?
With the knowledge that we have about what happened, are you at the foot of the cross now?
Looking back, we think that we know so much more than the disciples or the crowds, but in all honesty, we would probably have reacted the very same way. Thankfully, we live when we can look back on these events and we can reap the benefit of historical perspective. With that said, I have one question for you.
What do these events mean to you?
Copyright 1998 – 2023 Dennis J. Smock
Daily Living Ministries, Inc.
https://www.dailylivingministries.org
Support Daily Living Ministries
Subscribe to daily email delivery
Visit us on facebook