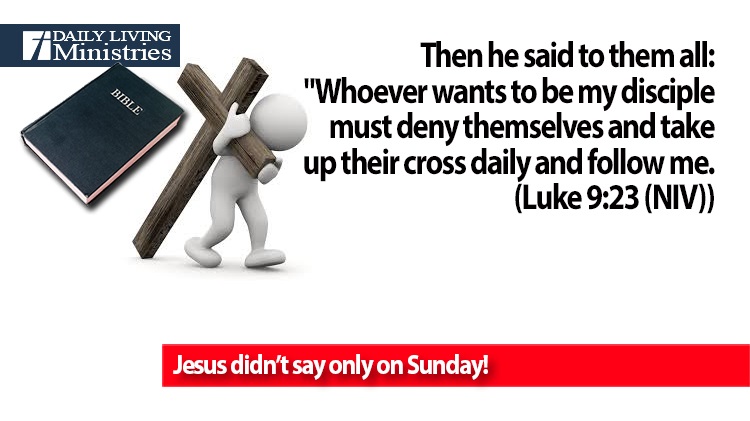 Be Still . . .
Devotionals for Daily Living ©
Then he said to them all: "Whoever wants to be my disciple must deny themselves and take up their cross daily and follow me.
(Luke 9:23 (NIV))
How much attention do you pay to Jesus on a Monday?
How about on Tuesday, Wednesday or Thursday?
Do you deny yourself on these days?
What about Friday and Saturday?
It is almost a given that most people do not deny themselves on these two days, especially starting when work is complete on Friday afternoon. Sadly, too many carry this over into Sunday. This is true even for some who profess a faith in Jesus as their personal Lord and Savior. For far too many, all that they seem to be able to commit to the Lord is an hour on Sunday morning. Even then, they watch the time and pay more attention to the text message they just received than they do to what is being taught about God's Word.
This is so far from what was intended with these words spoken by Jesus. Following Jesus is not an hour a week occurrence. We are to set our eyes upon Jesus every single moment of every single day. We are to deny the things that distract us from what we have professed as our first love. We are to keep our eyes on Jesus even when we are at work. We are to keep our eyes on Jesus during our best days. We are to keep our eyes on Jesus during our worst days. If you acknowledge that Jesus is the Word made flesh, then the following passage takes on a whole new meaning.
Fix these words of mine in your hearts and minds; tie them as symbols on your hands and bind them on your foreheads.
(Deuteronomy 11:18 (NIV))
We are to fix Jesus in our hearts and minds. We are to tie His teachings to our lives and bind them to our hearts and minds so that they are with us always, and not just an hour a week.
We can't expect to take up our cross daily if we do not take up His Word daily. Take is an action verb. It indicates a willful grasping, a determined and premeditated action that results in possessing what was taken. Following Jesus is a set of daily, deliberate and willful actions that keep us focused on Jesus. We can't stay focused on anything if we only devote one hour out of 168 hours that are in each week to what we profess to follow. We devote more time than that to eating. We devote more time than that to watching television. We devote more time than that to just about everything else in our lives. To the things that we love, we devote more of our time.
What does that say about your love for Jesus?
What does that say about your relationship with the Lord?
"Not everyone who says to me, 'Lord, Lord,' will enter the kingdom of heaven, but only the one who does the will of my Father who is in heaven. Many will say to me on that day, 'Lord, Lord, did we not prophesy in your name and in your name drive out demons and in your name perform many miracles?' Then I will tell them plainly, 'I never knew you. Away from me, you evildoers!'
(Matthew 7:21-23 (NIV))
It takes time to get to truly know Jesus. We are to take up our cross daily. We are to follow daily.
Jesus didn't say only on Sunday!
Copyright 1998 – 2023 Dennis J. Smock
Daily Living Ministries, Inc.
https://www.dailylivingministries.org
Support Daily Living Ministries
Subscribe to daily email delivery
Visit us on facebook