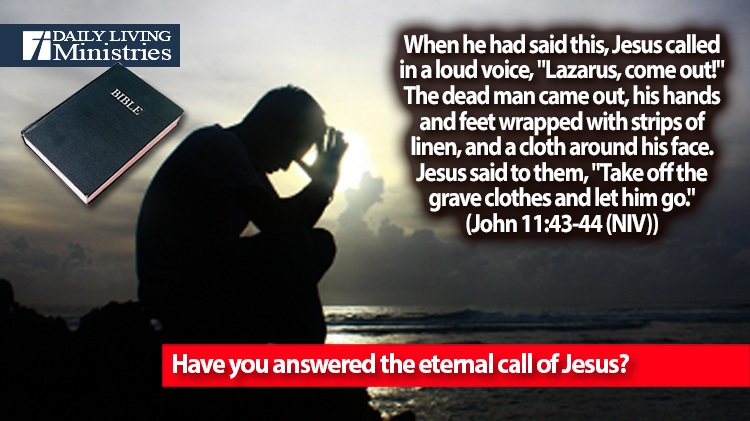 Be Still . . .
Devotionals for Daily Living ©
When he had said this, Jesus called in a loud voice, "Lazarus, come out!" The dead man came out, his hands and feet wrapped with strips of linen, and a cloth around his face. Jesus said to them, "Take off the grave clothes and let him go."
(John 11:43-44 (NIV))
I recently heard someone talking about the miracles that Jesus performed when He was on this earth. They pointed out that all of Jesus' miracles where temporary miracles.
Where is Lazarus today? Where is the blind man today? Where is the leper today? He pointed out that all of these people that Jesus healed were given a temporary healing, and that the grave finally claimed all that Jesus healed. Jesus knew that what He was giving them in the physical world was only temporary and that eventually all would die.
He also knew that their would be one, and only one, miracle that would not be temporary. What miracle is the one permanent miracle? Where is Jesus today? Is He not at the same place that He went to after the resurrection and the ascension? He is sitting at the right hand of God the Father interceding for us. He is NOT in the grave, but is alive and has overcome death. The ONE permanent miracle is the miracle of salvation that He paid for with His earthly life, but shares with all who believe in His resurrected life.
The thief comes only to steal and kill and destroy; I have come that they may have life, and have it to the full.
(John 10:10)
There is only one miracle that really matters. That is the miracle of salvation offered through grace and mercy for all who believe. This one miracle is the gift that keeps on giving. Every day, people accept this miraculous gift from God and are transformed by it, not like Lazarus in the physical body, but a spiritual Lazarus who is facing the promise of a new day through Christ Jesus.
Have you answered the eternal call of Jesus?
Copyright 1998 – 2021 Dennis J. Smock
Daily Living Ministries, Inc.
http://www.dailylivingministries.org
Support Daily Living Ministries
Subscribe to daily email delivery
Visit us on facebook