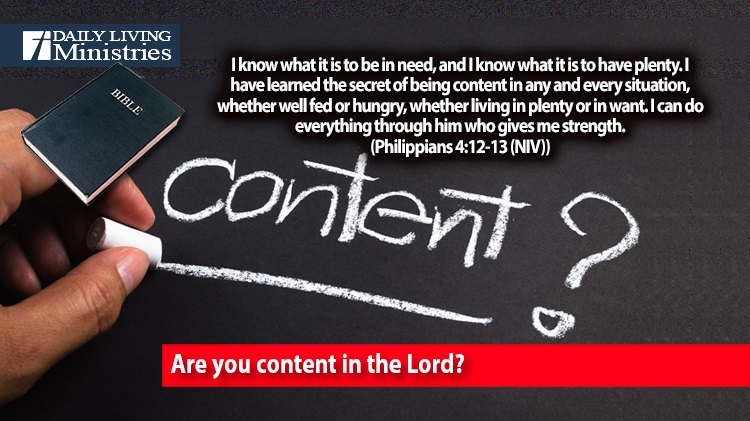 Be Still . . .
Devotionals for Daily Living ©
I know what it is to be in need, and I know what it is to have plenty. I have learned the secret of being content in any and every situation, whether well fed or hungry, whether living in plenty or in want. I can do everything through him who gives me strength.
(Philippians 4:12-13 (NIV))
Paul faced many adversities in his life after his encounter with Jesus on the road to Damascus. Yet, throughout everything that he faced, he was not angry or resentful, for he knew true peace and contentment.
Contentment does not come from the situation that you are in, nor does it come from finances or the correct political climate. True peace and contentment comes from knowing that Jesus Christ is your Lord and Savior, and that all things promised from God are "Yes" in Jesus.
The human condition is an interesting condition. Where there is pain and adversity, there is almost always despair. People have done serious things because of despair. Add the element of hope, and the consequences are greatly reduced. Add the element of certain favorable outcome, and the human spirit goes from one of total despair to total joy.
What Paul knew was the most certain thing that he had ever faced. Through his encounter with Jesus, he knew beyond a shadow of a doubt that not only is there hope, but there is a glorious certainty for those who have accepted Jesus as their personal Lord and Savior. Because of this certainty, he was able to face anything that the world could send his way. He had a goal, and he kept his eyes on that goal. Everything he encountered along the way was nothing more than a pothole on the road to that goal.
Have you set your eyes on that goal in the same way that Paul did, or do you let the circumstances of life change you objective?
Are you content in the Lord?
Copyright 1998 – 2021 Dennis J. Smock
Daily Living Ministries, Inc.
http://www.dailylivingministries.org
Support Daily Living Ministries
Subscribe to daily email delivery
Visit us on facebook