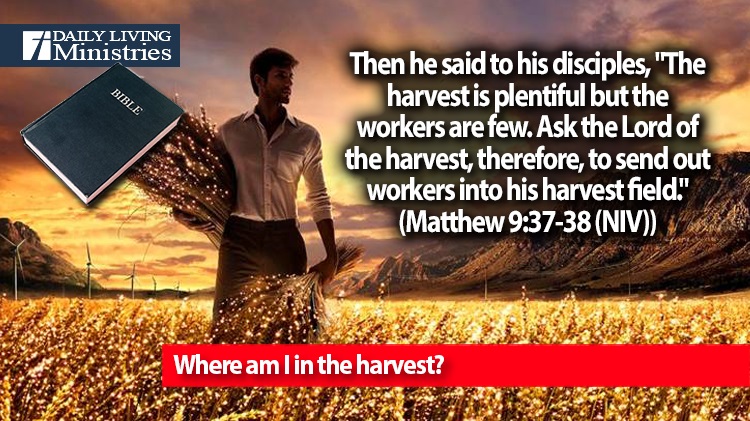 Be Still . . .
Devotionals for Daily Living ©
Then he said to his disciples, "The harvest is plentiful but the workers are few. Ask the Lord of the harvest, therefore, to send out workers into his harvest field."
(Matthew 9:37-38 (NIV))
There is one thing about a harvest that most people fail to realize. Eventually, anything and everything that can be harvested has been brought in and the rest is either plowed under or burned. In other words, the harvest will come to an end!
This is true of a physical harvest as well as a spiritual harvest. You can only pick so many apples before all of the good ones are taken. You can only pick so many ears of corn before all that is left is only worthy of feeding to the pigs. You can harvest only the wheat that is ready before you end up with chaff. Eventually, what is being harvested is all taken!
The Lord is not slow in keeping his promise, as some understand slowness. Instead he is patient with you, not wanting anyone to perish, but everyone to come to repentance.
(2 Peter 3:9 (NIV))
If you profess a faith in Jesus as your personal Lord and Savior, you are part of that harvest. It doesn't end there. God doesn't want anyone to perish, so He has an assignment for you and for I. We are also called to work the harvest, but we know that God has hardened the hearts of those who only desire their sinful nature. We know that He has given them a delusional spirit because of their desires. They have rebelled against God for so long that He has given them exactly what they wanted. We know that in the end days, both the wheat and the weeds will grow up evenly. We know that at harvest time, the wheat will be brought into the barn and the weeds and chaff will be burned. This can only happen when the harvest is complete. This can only happen when the Lord of the harvest looks upon the harvest field, the earth, and sees that the harvest is complete.
Many people believe that the harvest is rapidly coming to an end. Once that end arrives, the field will be completely stripped of the wheat that was gathered during the harvest. Farmers throughout history have burned off the stubble and the chaff after a harvest. They have collected what was offered up and they have burned the rest to dispose of it. If we, as sinful humanity, are the harvest field, why would anyone choose to be left behind? Why would anyone choose to face the fires?
You need to ask yourself one very important question.
Where am I in the harvest?
Copyright 1998 – 2022 Dennis J. Smock
Daily Living Ministries, Inc.
https://www.dailylivingministries.org
Support Daily Living Ministries
Subscribe to daily email delivery
Visit us on facebook